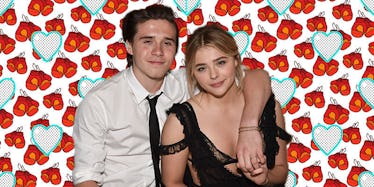 Brooklyn Beckham And Chloë Moretz Prove Boxing Is The Ultimate Couple Workout
REX/Shutterstock
If you're young, sexy and in love in Hollywood, you only have two obligations: to actively stay that way and to make sure paparazzi get romantic shots of you staying that way. Tom Hiddleston and Taylor Swift might prefer a beachside workout (or it's a conspiracy), but it-teenagers Brooklyn Beckham and Chloë Grace Moretz hit the gym.
Over the past week, they both have posted photos of their couple workout sessions to Instagram. It would appear as though they're boxing, but Beckham's chosen to wear his SoulCycle shorts. So, we can assume they're also spinning together — just not on this particular day, OK?
Ever the coy minx — as 17-year-old boys are wont to be — Beckham tagged his photo with a chili pepper emoji. You can choose to read it as a hot relationship or as a sign both starlets swallowed Indian ghost peppers before their sweat session in an attempt to follow some kind of insane new celebrity diet. Obviously, the latter is more appealing.
As the more mature one (by a full two years!), Moretz posted a more serious version of the workout on her own Instagram, captioning the scene, "Put em uppp put em uppp." I don't know anything about boxing, but I'd like to point out that Moretz's gloves are nearly twice the size of her boyfriend's. Is this the equivalent of showing dominance, but in ways that exclusively apply to couples who box.
If you and bae have a tendency to sit at home, binge-watching "Orange Is The New Black" instead of burning calories, perhaps a push from muscular celebrity teenagers is all you need. Hitting the gym together revs up your system, releasing endorphins that will make you see your partner with renewed goo-goo eyes. Plus, your partner's the only person who will really hold you to the lofty fitness goals you made way back in January.
After all, the couple who boxes together stays together.