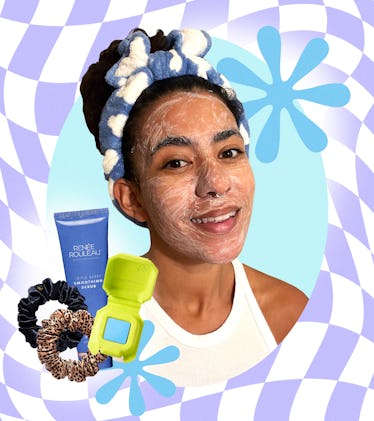 These October 2022 Beauty Launches Are (Trick Or) Treats
Including makeup so good it's scary.
Amber Rambharose, Lindsay Hattrick, Slip, Renée Rouleau, Half-Magic Beauty
October is my favorite month. It's moody, unpredictable, and vibrant, which is also my ideal fall beauty aesthetic. There are so many October 2022 beauty and skin care launches from my favorite brands that it feels like Christmas came two months early. Sure, brands drop new products every month, but October has the perfect mix of inspired new shades, innovative tools and formulations, and a sneak peek at the holiday offerings to come.
Between fall beauty trends hitting their stride and the approach of Halloween injecting everyone's aesthetics with a touch of spooky spark, October is a great time for makeup. Less excitingly, it's also the time that cold weather skin concerns start creeping in. If your dry skin or breakouts are exacerbated by dropping temps and rising winds, buckle up. Luckily, brands have brought a skin-first mentality to their new October launches from gentle serums to makeup with soothing ingredients to keep your skin barrier ready for the upcoming winter wonderland. When it comes to hair care, the launches ahead emphasize hydration and healing.
From metallic palettes that would delight Doja Cat to beauty tools that make even the trickiest of liner looks simple AF, these are all the new makeup, skin, and hair care products on this beauty editor's must-have list.
We may receive a portion of sales if you purchase a product through a link in this article.
This article was originally published on