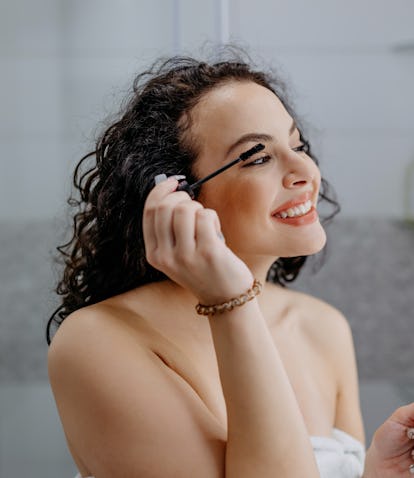 How To Do The Perfect Driver's License Makeup
RealPeopleGroup/E+/Getty Images
We may receive a portion of sales if you purchase a product through a link in this article.
There are a few well-known truths that no one questions. Time heals all wounds, always order French fries for the table, and driver's license photos are notoriously bad, so don't expect to look good in them. But, if there's one thing that's rocked the world as we once knew it, it's the invention of TikTok, a place where you can learn just about anything you've ever had questions about and find hacks for just about anything. One big trend on the app tackles the latter truth on that list: driver's license makeup. Upon first glance of these videos from TikTok users like @evanunez___, you'll notice a lot of bright blush and heavy, fluffy eyebrows.
Basically, TikTok users found that there's a certain way you can do your makeup where anyone can look like they're in a celeb-styled photo shoot at… wait for it… the DMV. Basically, it involves going a little ~extra~ with the makeup brush so that you can stand out in all the right places in the most harsh and unflattering lighting ever. Here's everything you need to know about mastering this trend at home, according to makeup artists who teach the trend worldwide.
What's "Driver's License Makeup"?
To put it simply, driver's license makeup is something that will look good in any lighting, says Kristen Fortier, makeup artist and product innovation lead for Crunchi Cosmetics. "Typically when getting a driver's license or passport photo, the lighting is extremely harsh or dark," she adds. "This makeup trend helps to counteract the unflattering elements."
Driver's License Makeup Vs. Everyday Makeup
Your everyday makeup look is probably something reminiscent of the no-makeup makeup look, a la Hailey Bieber. You know, clean face, maybe even glazed donut skin, with groomed eyebrows, a touch of mascara, and your favorite lip gloss. But when it comes to driver's license makeup, everything you previously learned about applying makeup goes out the window. Think "more is more."
"The key difference between the two makeup looks is really playing up the facial features in almost an exaggerated way, that looks extremely flattering in photos," says Fortier. "This technique has also been used for years for high fashion, stage, or any situation where the makeup would be seen in bright harsh lighting and it works."
How To Do Driver's License Makeup At Home
Step 1: Prep the skin
First, wash your face with your favorite cleanser and apply your favorite serum and SPF to start the day. Remember, the skin care products need to sit on your face for at least five minutes before beginning any makeup application so they can properly absorb and won't slip around and mix with your foundation or CC cream base. Right before you apply your base, you can add a primer to correct any uneven skin tone, pores, bumps, or anything you want to smooth out.
Step 2: Add your base
"Next, apply your foundation and do any spot concealing to cover any blemishes or trouble areas of the skin," says Fortier.
Celebrity makeup artist Neil Scibelli says you'll want to reach for a full-coverage foundation for this that gives a velvet, airbrushed finish, like NARS Radiant Longwear Foundation. Make sure to blend it out with the right sponge that makes it last longer and look even throughout the face, like the Real Techniques Miracle Complexion sponge that's antimicrobial, so you won't have to worry about gunk and bacteria accumulating on it.
Step 3: Begin layering your concealer
In case you've forgotten by now, more is still more. "Layer with a concealer under the eyes and this time bring it further upwards under the eyes to create a lifting effect, and also use that same concealer along the brow bone," says Scibelli. Don't forget to also highlight the brows with a bit of concealer underneath them to really accentuate the lifted look you're after.
Step 4: Contour and define
"A matte bronzer would give the best effect for this look and you can use it around the forehead, along the hollows of the cheeks, along the jawline, the tip of the nose, and even towards the outer corners of the eye crease," says Scibelli. "This will help sculpt the complexion and also give a warmer look."
After you've added your contour, go back in with the concealer under your eyes, as per TikToker @georgia.barratt. "This time closer to the inner corners, and the center of the forehead," says Scibelli. "I love Koh Gen Do's Moisture Foundation as a concealer because it's beautifully pigmented and also reflects light."
Step 5: Add finishing touches
A creamy, hydrating blush works best for this look because you want your cheeks to really pop and catch the light. Scibelli says to place it "towards the outer cheek area and a bit higher than usual, to give a more lifted appearance." From there, make sure to set the look with pressed powder. You can add this under the eyes to really seal it in.
Add your favorite mascara to lift up the lashes, and then apply a winged eyeliner in a lifted motion upward towards the outer corners of the eyes. "You can also thicken the outer edges of the line to accentuate that lift," says Scibelli. "Since this look is all about over-accentuating, you can finish the look with a bit of an overlined lip with a lip liner and a nude berry gloss to add that shine and dimension on the lips," he adds.