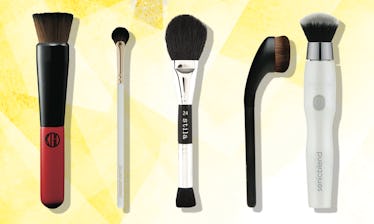 These Are The Best Pro-Quality Makeup Brushes You Can Buy On Amazon
Elite Daily/Amazon
Makeup brushes are an essential part of any makeup kit. Whether you're filling in your brows, bronzing your cheeks, or applying eyeshadow, using the right brush makes all the difference. And as any pro knows, makeup brushes definitely aren't created equal, which is why it's important to do your research if you're looking for a quality set that'll last you for a while. Ahead, this guide breaks down the best professional makeup brushes you can buy on Amazon. But first, a few notes about caring for your makeup brushes, because proper care is essential to keeping your brushes hygienic and in good shape.
The best way to maintain your brush hygiene and quality is to clean them regularly — at least once a week if you're using them on a daily basis. There are tons of different ways to clean your brushes: you can buy a makeup brush cleaner, or you can do it yourself. DIY methods vary, but I like to do it by mixing two parts dish soap and one part olive oil. (The oil helps keep the brushes soft and gets washed out with the soap, so you don't have to worry about it transferring to your skin.) Wet your brush, swirl it in your soap and oil mixture, then run it under water until it rinses clean. Then, leave your brushes to dry on a towel overnight (or better yet, invest in one of these handy makeup brush dryers).
And here's another important tip. One of the most common mistakes people make when cleaning their makeup brushes is drying them upright: this causes the water to seep down, which can damage the glue that's holding the brush together, and can even cause the bristles to lose their shape. Instead, lay them flat or, if possible, hang them upside down to dry. Again, this is what makes makeup drying tools such a wise investment.
And now, scroll on to shop the best professional makeup brushes and sets.