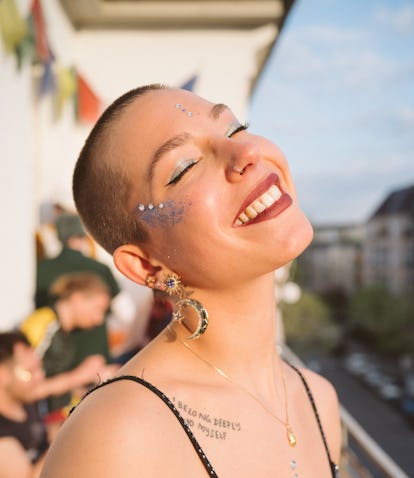 5 Glitter Eye Makeup Tips To Make The Whole Place Shimmer
We may receive a portion of sales if you purchase a product through a link in this article.
Shining bright like a diamond isn't limited to Rihanna. Anyone could easily add a little glitz to their beauty routine if they have the right tools at their disposal. In fact, just a few products and a couple glitter eye makeup tips, and you'll find that it's surprisingly easy. For instance, instead of blending out the perfect smokey eye and layering different matte colors on your lids hoping the look turns out simply OK with glitter, you can pat on some sparkles and head out the door. Of course, you can experiment with more advanced techniques as you get more practice in, but sparkly makeup is trending for spring 2023 for a reason: It always looks great. No one even has to know you put in minimal effort.
Whether you're trying this trend for the first time or looking to level up your eye glitter hacks, this is your one-stop shop for all bejeweled beauty things. Except not the sticky tubes you used to pull out of your pockets in elementary school — the formulas, shades, and packaging have seriously leveled up over the years. Below, two high-profile celeb makeup artists spill the tea on the glitter eye makeup tricks you need to know, the products they recommend, plus the glitter makeup trends they predict for spring 2023. ✨Lit✨ is about to get a whole new meaning.
Start With Glitter Eye Accents
Glitter eye accents are one of the easiest ways to get into the glitter trend without having to slather something across your entire eyelid. It's giving Euphoria Season 1. Celebrity MUA Nydia Figueroa loves this look for beginners, especially this season. It was even utilized at New York Fashion Week SS23.
Figueroa's two biggest notes: 1) Add accents of glitter around the eyes. 2) Touch on high points of the cheekbones. "It mimics the way you would apply highlighter, but replaces it with glitter and plays with color," she says. "I would take a bit of glitter with my ring finger, apply setting spray to the finger, and pat it on the areas of the face where I want the glitter to stick."
You can achieve this look with easy-to-place eye gem stickers from PaintLab or glitter pots from Lemonhead LA.
How To Get Glitter Makeup To Stick
If you're using loose glitter on your eyes, the best way to keep it in place is applying a glitter glue underneath to make sure it doesn't move. "Use a setting spray and a glitter that is fine and compact (safer for the eye area than larger-sized glitters )," says Figueroa. One glitter that "has incredible payoff without the mess," according to the MUA, is Be a 10's Be Dazzling Eye Pot.
If you're using a creamy metallic glitter shadow, like Halsey's about-face Fractal Glitter Eye Paint, you don't need to put a glue on first, just a shadow primer. To finish it off, pair it with a setting spray, like Tarte's Shape Tape.
Spring 2023 Glitter Makeup Trends
Double Glitter Eyeliner
According to Michele Shakeshaft, a national pro MUA for Bobbi Brown Cosmetics, spring 2023 glitter eye makeup trends are all about having fun. "I love the look of a 'double liner' using glitter or metallic eyeshadows and black eyeliner," says Shakeshaft.
To create this look, line your eyes with a powerful ink black liner, like the Bobbi Brown Long-Wear Gel Eyeliner pot, then paint a glittery metallic line on top or underneath your black line. You can use a glitter liquid liner or wet a brush and dip it into your favorite glittery eyeshadow. It's that easy.
Holographic Eyes
Another look Shakeshaft predicts is a holographic eye look made up of two different glitter or metallic shimmer colors. "Using two different shimmer/glitter formulas builds a multi-dimensional, glittery look on the eye," she says. Try using a stick shadow formula to make drawing on the eye even easier.
Illuminating Foundation
Although some beauty influencers are mixing actual glitter in their regular foundations and showing off a full face of illuminating drip, Figueroa believes this trend isn't sustainable and probably won't be around by spring. She says, "I personally do not approve of everyday use, as it can not only clog your pores, but can add and reveal unwanted texture on the skin."
Something that will be on trend: *illuminating* foundations and primers that give just the right amount of shimmer for a sun-kissed glow. "If you want to create glowy skin, I recommend mixing a liquid illuminator into the foundation or using it in specific areas where you want to see elevated glow," says Shakeshaft.
No matter how much you play up or down this trend, there are so many products out there that make it easier to create the glitter eye looks of your dreams. Try out some of these tips and don't forget: The best way to rock glitter eye looks is to have fun with it.
Experts cited:
Nydia Figueroa, celebrity makeup artist
Michele Shakeshaft, national pro makeup artist for Bobbi Brown Cosmetics