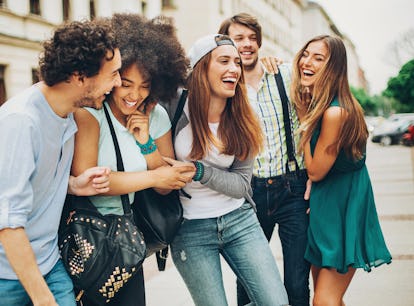 These 13 Clothing Brands Have Amazing Student Discounts
Turn $$$ to $ with a wave of your school ID.
pixelfit/E+/Getty Images
If you're getting ready to go back to your dorm room or classroom you need to know about all the clothing stores with student discounts. Between textbooks, school supplies, and a fresh new school year wardrobe, going back to school can be expensive, no matter how much you saved up with your summer job. To help cut costs, you should definitely bookmark any and every clothing brand that offers students discounts.
Student discounts are life savers when it comes to stretching your dollar as far as it can go. You may have seen signs in stores and restaurants around your campus offering students discounts, but there are even more deals for students out there (especially on ye old interwebs) than you may have ever realized. Hidden on many of your favorite shopping websites are student discounts for both college students and high schoolers. Fashionable and affordable — it's every student's dream.
Most student discount promotions require you to sign up with a college or high school email account ending in .edu or some other proof that you're a student. Still others are only accessible through third-party sites like UniDays or Student Beans. Getting these student discounts is a little trickier than signing up for something basic like the annual 10% off birthday discount code, but once you get your account set up you're set for at least the year. Get ready for your back-to-school style refresh before Homecoming weekend is even on the horizon by checking out the best student discounts offered by clothing brands and retailers below.
We at Elite Daily only include products that have been independently selected by our editors. We may receive a portion of sales if you purchase a product through a link in this article.