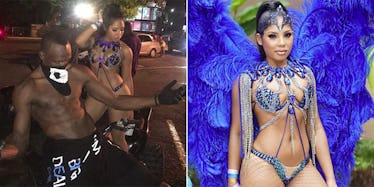 Usain Bolt's Girlfriend Is Hot AF, So No Wonder His Mom Says To Get Married
Instagram
Let's face it, superstar athletes and attractive significant others go together like peanut butter and jelly.
So it's no surprise that Usain Bolt has a girlfriend who pretty much everyone agrees is hot.
Usain Bolt's girlfriend tho pic.twitter.com/3uHfuDmZjd — Kimbo Slice (@KimbrlyDionisia) August 20, 2016
That girlfriend is 26-year-old Kasi Bennett, otherwise known as Kasi B. on social media, and she's been dating Bolt for over two years, according to Daily Mail.
Bolt shared this picture of himself with his "first lady" in April, during Carnival time in Jamaica.
And while Bolt's picture doesn't show off how well Kasi rocks the Carnival look, she made sure to take off that herself with this video.
Yeah, she knows what she's doing there.
You can tell they're perfect for each other, too. Usain Bolt is probably the most confident athlete on earth and never fails to show it. Likewise, Kasi never fails to show how confident she is in her guy.
So fitting.
And for however confident she is, she's just as stunning.
Plus, she shows the ultimate sign of a someone who know they're drop-dead gorgeous: she posts her pics on Instagram without captions and lets the visuals speak for themselves.
It's no wonder Usain Bolt's mom wants him to settle down after the Olympics. Jennifer recently told CNN,
I would hope he'll settle down, get married and start his family.
It all makes sense now. What mother would want her son to let someone like this go?
What can we say? Kasi B. is white hot.
Citations: Daily Mail