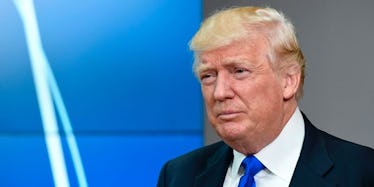 Trump Can't Stop Bragging About US Secrets, And It's Even Shocking The Pentagon
Getty Images
President Donald Trump's boasting to foreign leaders is causing concern among government officials, again.
This time, it's the Pentagon that is "shocked," after Trump divulged information about US military strategies to a foreign president, according to a report from BuzzFeed News.
More specifically, Trump revealed during a phone call in April with President Rodrigo Duterte of the Philippines that the U.S. military had moved two nuclear submarines towards North Korea, a transcript of the call shows.
Trump said,
We have two submarines – the best in the world – we have two nuclear submarines – not that we want to use them at all. I've never seen anything like they are but we don't have to use this but [North Korean President Kim Jong-Un] could be crazy so we will see what happens.
Revealing such information jeopardizes an element of surprise, the Pentagon officials reportedly explained to BuzzFeed. The report also quoted three officials as explaining in rather simpler way,
We never talk about subs!
Déjà vu
This story is not the first of it's kind.
Trump's call with Duterte is one of two instances in the span of a month in which the president has shared information that caused alarm within a government agency.
Last week, a Washington Post report stating the president shared classified information with Russian ambassadors in the Oval Office, a day after Trump had fired the FBI director who had investigating Russia's efforts to influence the 2016 presidential election, prompted alarm among former and current intelligence officials.
One official told the Post that Trump, "revealed more information to the Russian ambassador than we have shared with our own allies."
The Post's report also revealed that this instance appeared to be a result of Trump's boasting as well, with the president reportedly saying during the meeting,
I get great intel. I have people brief me on great intel every day.
Trump's apparent tendency to share seemingly secret information with a lack of discretion has concerned officials abroad, too.
Just before Trump embarked on his first foreign trip as president, which included a stop in Israel, Foreign Policy reported that Israeli intelligence officials were "furious" with their counterparts because of Trump's meeting with the Russians.