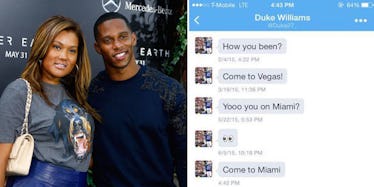 5 Times NFL Players Got Shamelessly Called Out By Women In Their Lives
Earlier today, New York Giants wide receiver Victor Cruz got put on blast by his fiancée, Elaina, who allegedly sent out a group text to all of Cruz's side chicks.
Embarrassing? Sure. Damning? We'll see. First time it's ever happened? Hell no.
NFL players have been called out on, hit on and sh*t on via social media for years; Cruz is just the latest cat to reportedly get caught up in the game.
In some cases, like with Cruz, a player might get put on blast for being friendly with one too many ladies. Other times, like in the apparent case of Julian Edelman, a player's name gets dragged through the mud by someone looking for some extra attention.
Regardless of whether or not an NFL player is at fault is irrelevant. This type of thing has happened before and will almost definitely happen again.
Don't worry, Victor, there's a bunch of NFL players who wish Twitter, Instagram, Facebook and Snapchat didn't exist.
Julian Edelman celebrated his Super Bowl win with this woman but didn't think it would end like this.
Bills safety Duke Williams will never try a DM slide ever again.
Don't forget about the time RGIII was allegedly texting a Hooters girl during the week of his wedding.
Victor Cruz's teammate Odell Beckham Jr. apparently inspired one woman to change her Tinder profile.
Then, there was the most recent instance when Victor Cruz appeared to get called out by his fiancée.
Make of these alleged cases what you will, but remember to always think before hitting "send."