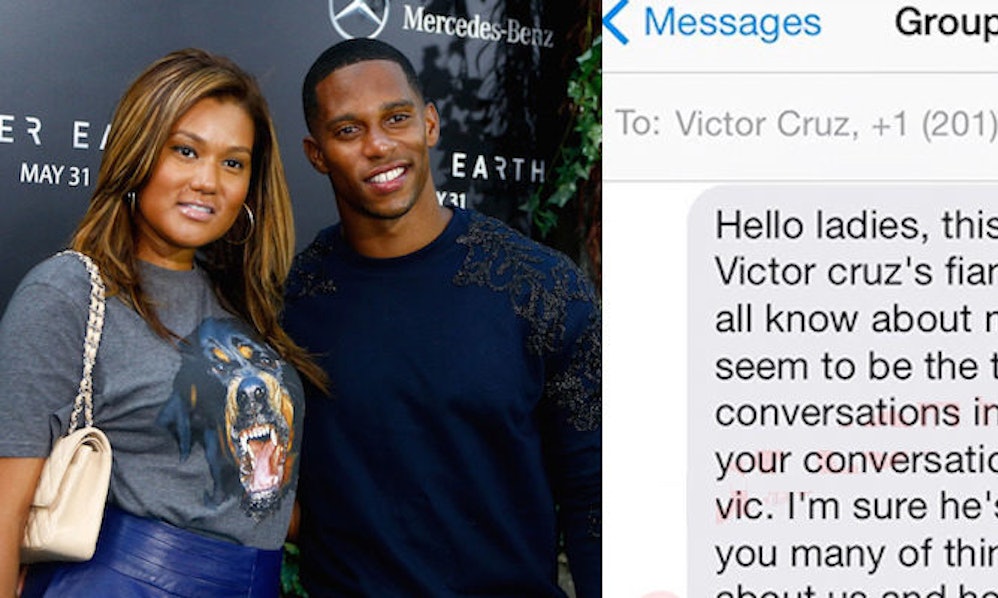 Getty Images
Victor Cruz's Fiancée May Have Sent A Group Text To All His Side Chicks (Photo)
Due to an ailing knee, New York Giants wide receiver Victor Cruz hasn't played a competitive football game in months.
And while he's been on the sideline, Cruz has apparently been consoled by numerous side chicks. But that's all about to come to an end, thanks to a group text message supposedly sent by Cruz's fiancée, Elaina.
Elaina allegedly sent out the following text to all of Cruz's supposed lady friends, which ended with a directive for all of them to "exchange notes."
It looks like Cruz just got his sh*t blown up, again!
Citations: VICTOR CRUZ'S FIANCE ALLEGEDLY SENT GROUP TEXT TO ALL HIS SIDECHICKS (Ass Kissy), Victor Cruz's Fiance Allegedly Sent Group Text to All His Sidechicks (Black Sports Online)