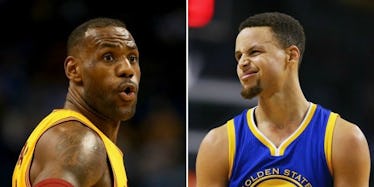 This Is Why The NBA All-Star Emojis Are All Wrong
Getty Images
Today, the NBA released emojis for all 24 players competing in this weekend's All-Star Game festivities in Toronto, Canada.
This is a good play by the league because it's impossible to host a successful major sporting event nowadays and not think about the engagement of fans via social media.
Sunday's Super Bowl didn't do so hot in that category. Both Twitter and Facebook reported declines in engagement during Super Bowl 50, so it's even more imperative for the NBA to step up its social game.
The only problem is the NBA's emojis aren't really representative of the players' true identities. Here's what the NBA came up with for the 2016 NBA All-Stars.
The NBA released emojis for each All-Star ahead of #NBAAllStarTO ►https://t.co/82E0lyftDd pic.twitter.com/X29DlN4O3q — 120 Sports (@120Sports) February 12, 2016
Here are what the emojis should really be, if we're all being honest with ourselves.
Eastern Conference All-Stars
#LeBronJames
I love you, Bron-Bron, but if we're all being completely real, you're not the king of hoops at the moment. Steph Curry is the best player in the league, so it's King Curry as far as most should be concerned. LBJ is still basketball royalty, so maybe the NBA should go with a scepter as his emoji.
#CarmeloAnthony
The New York Knicks are 23-32 overall and 1-9 in their last 10 games. Carmelo Anthony's emoji should be a dude crying, not flashing a wry smile.
#DwyaneWade
All the respect in the world to D-Wade, but he's 34 now and far from the flamethrower he once was. Granted, the Miami Heat is currently the fifth seed in the Eastern Conference play-off picture, so maybe we just take the flames down a bit on Wade's emoji. I'm thinking more lukewarm than burning hot.
#KyleLowry
When the All-Star Game is being hosted in your team's home city, you deserve more than just a number as your emoji. Come on, NBA. It looks like Zorro tried to make the Toronto Raptors player's emoji but got bored halfway through. Let's go with Lowry's face on the most badass velociraptor ever.
#PaulGeorge
Seriously, a movie ticket? This is a poor excuse for an NBA All-Star emoji. The Indiana Pacers big man recently appeared in a photo with Ben Higgins from "The Bachelor," so George's emoji should be him holding a rose, obviously.
#JohnWall
I don't care about some wack flexing arm with the number two on it. John Wall's emoji, now and forever, should be him doing The Dougie. I don't want a reference to The Dougie, as some claim this emoji to be, I want the real thing.
#IsaiahThomas
So little is known about Isaiah Thomas the league went with a shamrock emoji just because he plays for the Boston Celtics. If you're going to go the shamrock route, which is totally fine, let's get some gold or a rainbow coming out the top.
#AndreDrummond
Instead of a corny drum, how about a mini-Drummond throwing down a fire dunk? You know, because he's going to be the first Detroit Piston to compete in the NBA Slam Dunk Contest since Jerry Stackhouse did in 2000.
#PaulMillsap
Is that a lunch box? Sporting News ranked Atlanta Hawks player Paul Millsap the second-best player among the Eastern Conference All-Stars. Surely that deserves a fire-breathing hawk with Millsap's face on it, no?
#PauGasol
A red 16? Where's the creativity? Pau Gasol looks like Watto from "Star Wars," so let's go with a Watto-Gasol-looking creature in a Chicago Bulls jersey.
#DeMarDeRozan
Again, the lack of personality the NBA is giving these guys is a shame. Instead of a red maple leaf, DeMar DeRozan should have his figure dunking all over Shabazz Muhammad because that thing was amazing.
#ChrisBosh
How are we going to have virtually the same emoji for Bosh as we do Dwyane Wade? I get they're teammates, but anything other than Bosh pouring champagne on himself is an insult to the emoji game.
Western Conference All-Stars
#KobeBryant
Kobe is one of the realest dudes to every play the game of basketball, but he's not the Black Mamba he once was. The NBA can keep the emoji snake, but maybe a more congenial mamba with a smile and calm expression would be better.
#StephenCurry
For the life of me, I don't understand why Curry would have anything other than the most radiant smile known to man. This dude is king of the world right now, and his emoji should have him smiling, wearing a crown and going Super Saiyan.
#RussellWestbrook
The red glasses are a nice effort, but the NBA should have Westbrook low-key mocking Kevin Durant for the greatest emoji ever.
#KevinDurant
Speaking of KD, how could the NBA have anything but KD holding a camera as his All-Star Game emoji?
#KawhiLeonard
When I think of Kawhi Leonard, I think of a stoic assassin, so his emoji should really just be his expressionless face.
#KlayThompson
Yes, this Splash Brother definitely makes it rain for the Golden State Warriors, but maybe him in a sidecar with Steph Curry driving would be funnier and more accurate.
#JamesHarden
We all fear the beard when it comes to James Harden, but the NBA could go the extra mile by having a hand making the cooking gesture, just saying.
#DraymondGreen
Draymond Green's emoji should be him getting that referee to apologize for blowing that foul call. Just show a little ref and a smiling Draymond.
#AnthonyDavis
I like the unibrow emoji, but considering how poorly Davis and the New Orleans Pelicans are playing right now, maybe the NBA could come up with a discombobulated unibrow for AD's emoji.
#DeMarcusCousins
Boogie's emoji should be him with a word bubble that says, "Trade me!"
#ChrisPaul
Anything other than Cliff Paul in a State Farm Insurance sweater vest is an unacceptable emoji for Chris Paul in the All-Star Game.
#LaMarcusAldridge
I don't know about you guys, but I'm not feeling the L-Train as the best way to encapsulate LaMarcus Aldridge. No, Aldridge's emoji clearly needs to be him in a cowboy outfit firing pistols, because he's going to be key if the San Antonio Spurs are going to dethrone the Warriors from atop the Western Conference.
Better luck next year, NBA.
Citations: TWITTER AND FACEBOOK REPORT DECLINE IN ENGAGEMENT DURING THE SUPER BOWL (The Comeback), NBA goes emoji for every player in All-Star Game (The Washington Post), Pistons center Andre Drummond to compete in NBA Slam Dunk Contest Saturday (WTVB), East F Paul Millsap (Sporting News), Warriors' Draymond Green gets ref to admit he was wrong about foul (Sports Illustrated), Report: Kings' DeMarcus Cousins asked for a trade a month ago (CBS Sports), There's A Plot Hole In The Cliff Paul State Farm Commercial — And You'll Never Watch It The Same Way When You Hear It (Business Insider), LAMARCUS ALDRIDGE: RIDIN' WITH THE L-TRAIN (NBA.com)