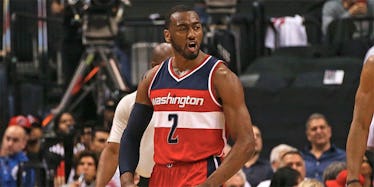 The Wizards Don't Need Your Attention To Be Championship Contenders
Facebook
The sports buzz this past weekend was centered on Mayweather-Pacquiao, the 141st "Run for the Roses," the Stanley Cup playoffs and the NBA playoffs.
And while Mayweather, American Pharoah and Steph Curry were all among the winners this weekend, so were the Washington Wizards.
They didn't garnish anywhere near as much attention as two aging boxers or a 3-year-old colt, but such is life for John Wall, Bradley Beal and the rest of the Wiz.
Unless you're LeBron James, Steph Curry or James Harden, your team doesn't get discussed in the national conversation.
Granted, the Cavs, Warriors and Rockets all have a shot to win the title this season, but so do the Washington Wizards.
The Wizards started off the 2014-2015 regular season like a house on fire, but after cooling off in the second half, they entered the postseason as the five seed in the East.
Of course, few "experts" picked Washington to even get out of the first round, but that suits this team just fine.
Here are five reasons the Washington Wizards don't need attention to be championship contenders.
They haven't lost a playoff game yet.
It's kind of hard to doubt a team's postseason chances when they've yet to suffer a loss.
On April 18, before the Wizards and Raptors opened up their first round series in Toronto, Raptors GM Masai Ujiri used an expletive while talking about Washington Wizards forward Paul Pierce.
Ujiri's message was in response to Paul Pierce saying,
I don't feel they have the 'it' that makes you worried.
A day later, Ujiri was fined $35,000 for his comments, and about a week later, his team was bounced from the playoffs quicker than a belligerent drunk at closing time.
Washington pummeled Toronto, 125-94, in Game 4 to complete the series sweep, and Paul Pierce left the court to a standing ovation.
This past Sunday, Washington took Game 1 in Atlanta, 104-98, and they'll look to continue their undefeated postseason run tonight.
Last season wasn't a failure, it was a beginning.
Plenty of folks have been quick to point out this is exactly how the Wizards started the 2013-2014 playoffs.
Washington breezed past Chicago in five games in round one, but in the next round, they fell in six to the Indiana Pacers after winning Game 1.
But, there are key differences.
Last year, the Wiz had Trevor Ariza at small forward, this time around, they've got a playoff-proven veteran in Paul Pierce.
And isn't it entirely possible last year's playoff run was as much an achievement as it was a learning experience?
Washington's starting backcourt is made up of John Wall and Bradley Beal, who are 24 and 21, respectively.
There's absolutely no way you can tell me last year had a negative impact on these budding stars.
Beal and Wall haven't just elevated their games this year, they've made the team around them that much better. And for that, Washington are in a much better spot now than they were a year ago.
Paul Pierce gives the Wizards a swagger they need.
At 37 years old, Paul Pierce has played 16 NBA seasons. He was named Finals MVP in 2008 and is a 10-time All-Star.
A seemingly ageless wonder, Pierce has a propensity to hit big shots when it matters most, and that's something invaluable for a young playoff team.
In addition to his basketball skill, "The Truth" isn't afraid to have his name in the headlines -- for both the good and the bad -- or mix it up with the opposition to give his team a much-needed spark.
He may be pushing 40, but this year, Pierce registered his best regular season three-point percentage since the 2009-2010 season (.389).
John Wall and Bradley Beal are the backcourt you love to hate.
For whatever reason, John Wall and Bradley Beal just aren't America's sporting sweethearts.
This country -- the media at least -- is in love with LeBron's return home, Harden's beard in Houston and the Splash Brothers making it rain out west.
And I'm not saying those stories shouldn't dominate the NBA landscape, but why doesn't there appear to be any room for Wall and Beal?
ESPN's Colin Cowherd has had it out for Wall ever since he took to the court doing The Dougie, and Beal has received criticism about his play at times this year, despite dealing with an injury setback.
Yes, the Washington Wizards are only going to go as far as these two take them, but these guys are still in their early 20s.
Randy Wittman gives absolutely nothing away.
Randy Wittman has been the head coach of the Washington Wizards since 2012, and after going 29-53 during his first season in charge, he's now led the Wiz to the Eastern Conference semis in back-to-back seasons.
Still, there are those who think Wittman can't take Washington to the next level.
Part of the reason those outside of the Wizards' organization aren't sold on Wittman's basketball acumen, is that he keeps things extremely close to the chest.
According to the Washington Post, Wittman said the following to a reporter,
You always want the inside dealings. You want us to get you a locker in there so you can just come in there and sit? He wants the inner workings of us so we can print this out to the world of what we're thinking and why we think. Listen, we did what we did. We saw what we thought was the best way to play, and that's what we did.
Wittman also had his struggles with diagramming plays on the dry-erase board.
All jokes aside, if you have no horse left in the NBA playoff race, then it's time to hop on the Washington Wizards' bandwagon.