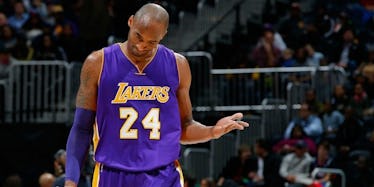 Let's Face It, Kobe Bryant's Farewell Tour Is One Long Walk Of Shame
Getty Images
Enough is enough.
Somewhere between reliving Kobe Bryant's greatest performances and watching his nightly routine of leaving a blowout loss with time winding down in the fourth quarter to a raucous applause, it hit me.
This isn't the way Kobe Bryant should be going out. Not him.
This past summer, before Kobe officially declared this would be his final NBA season, basketball Hall of Famer and current "NBA on TNT" analyst Charles Barkley did an interview with Sirius XM NBA Radio. Speaking on Kobe, Barkley said,
I hear these fools on TV, talking about, 'Kobe's going to get healthy.' Old people don't get healthy; they die. Old people don't get healthy. Father Time is undefeated… You can get in great shape in the summer because you're playing against air. Air doesn't hit back.
I doubt Kobe heard what Barkley said but, even if he did, I doubt it would've affected his decision to play this season.
Kobe deserves a farewell tour. Kobe deserves a standing ovation in every NBA arena he visits this season.
But after 55 games and an 11-44 record, is this really what Kobe wanted?
In that same interview with Sirius XM NBA Radio, Barkley previously said of Kobe,
I hope he retires because I don't want to see — I probably played two years too long. I hate to see Patrick Ewing, great as he was, struggle — I don't like seeing great players just out there, you know? Michael Jordan playing for the Wizards, that didn't do anything for me. Kobe's obviously not going to walk away from $30 million. This should be like a farewell tour, play 20, 25 minutes a night.
And so it is.
But Kobe's 2015-2016 season feels nothing like a farewell tour. It feels like a sad walk of shame.
Just hear me out.
I'm not trying to throw shade at one of the greatest and most entertaining basketball players of all time. In fact, I'm saying just the opposite.
Wednesday night, I watched Kobe Bryant embrace LeBron James after being pulled out of the Los Angeles Lakers' eventual 111-120 loss to the Cleveland Cavaliers. The entire Cleveland crowd rose to its feet to salute the Black Mamba, and for obvious reasons.
But the look on Kobe's face said it all.
Here he is, at age 37, being trotted out for yet another losing effort in what's been a miserable season for the Lakers. Forget the fact Kobe is averaging his fewest minutes per game since his 1996-1997 rookie season and fewest points per game since his 1997-1998 season (irrespective of his six-game, injury-shortened 2013-2014 season).
The on-court product was always going to take a hit. It's the mental and emotional struggle he's clearly dealing with that's making this farewell tour hard to watch.
Always a competitor, Kobe responded when asked what he hates most about his farewell tour,
This is Kobe's 20th NBA season and, my God, what a ride it's been. From the clutch shots to the culture-defining shoes, Kobe has done it all. And, he's won five NBA Finals along the way.
But it's hard to remember any of that right now. It's hard to remember the 'fro, the number-eight jersey and the hatred people other than Lakers fans have always had for him.
That's because this isn't the Kobe Bryant the world fell in love with. This, as Charles Barkley put it, is a great player who's "just out there." And that's not how anyone wants to see Kobe.
Throughout this season, Bryant has been saluted by Michael Jordan, Jerry West and seemingly every player he's ever come in contact with in his NBA career. He even had a black mamba snake named after him at Zoo Atlanta.
"NBA on TNT" tweeted a particularly goose-bumps-worthy tribute video this past Christmas.
Christmas Day won't be the same without you, @KobeBryant.#NBAXmas https://t.co/sHOKNWYZni — NBA on TNT (@NBAonTNT) December 25, 2015
And, Jerry West's recent pregame message brought Kobe to tears.
Forget about the physical demand this season is having on Kobe, I can only imagine the emotional toll it's taking.
Is this what he envisioned for his farewell tour? Can you really imagine what it's like to know this is your last year on a job you've been doing most of your life?
I'm not sure what the solution is, or if there even is one. Should Kobe call it quits tomorrow and put an end to the nightly ovations and video-montage tributes?
The Lakers have 27 games remaining on their schedule and zero chance of making the playoffs, so maybe Kobe should just go out there 20-something more times and deal with it. He made it this far already and, thankfully, he's not going to participate in the Rio 2016 Summer Olympics.
I don't know, but it's getting increasingly difficult to watch this nightly routine. It's going to be downright unbearable to tune in Wednesday, April 13, when the Lakers host the Utah Jazz in what will be Kobe Bryant's final game as a professional basketball player.
I don't know, Kobe, but you weren't supposed to go out like this.
Citations: The Road to Greatness: Moments That Defined Kobe Bryant's Career (Sole Collector), 'Old people don't get healthy; they die': Barkley wants Kobe to retire after season (FOX Sports), Hawks to honor Kobe Bryant, name black mamba snake after Lakers star (CBS Sports), Kobe passes torch, drops out of Rio Olympics consideration (NBA.com)