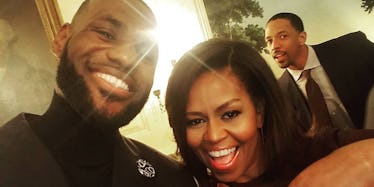 LeBron James Takes On The Mannequin Challenge With Michelle Obama
Instagram
Settle down, people. Donald Trump hasn't exactly "moved" into the White House yet.
That's why Michelle Obama is using the prestigious space to host the most recent NBA champions -- the Cleveland Cavaliers.
Despite the fact that most of the country is in mourning over Hillary Clinton's devastating loss to President-elect Donald Trump, I think it's safe to say there's always time to enjoy a good ole mannequin challenge.
In case you've been living under a rock for the past month or so, the mannequin challenge is when you try your hardest to stand completely still in whatever position you're in when the challenge begins.
While someone records the entire thing, everyone must basically hold their breath and not blink, otherwise you lost the challenge.
Everyone from Destiny's Child (I'm not kidding) to Hillary Clinton's squad has attempted the challenge.
The most recent group to take on the trendy stunt? LeBron James, JR Smith, Kevin Love and the rest of the Cavs.
The 31-year-old NBA champ joined the First Lady and President Obama at the White House on November 10 following Election Day.
Not only did LeBron and the team get to meet with Mr. President (for now), but they also had the chance to take on the latest social media trend.
The video of the challenge was shared on Twitter. The caption reads,
Freezing our @WhiteHouse visit in time forever with @FLOTUS!
Lucky AF!
Behold, LeBron James and the Cleveland Cavaliers taking on the #MannequinChallenge with First Lady Michelle Obama.
Freezing our @WhiteHouse visit in time forever with @FLOTUS!#MannequinChallenge pic.twitter.com/iX1qaJ8qQQ — Cleveland Cavaliers (@cavs) November 11, 2016
They made that look TOO easy.
It all makes sense, though. If I had the once-in-a-lifetime opportunity to take on the mannequin challenge with the Obamas, I'd make sure I was as still as a, uh, mannequin, too!
However, there was one particular Cavalier teammate who wasn't quite able to keep himself together. Can you spot him?
Citations: Cleveland Cavaliers Shoot a Mannequin Challenge with First Lady Michelle Obama (Complex)