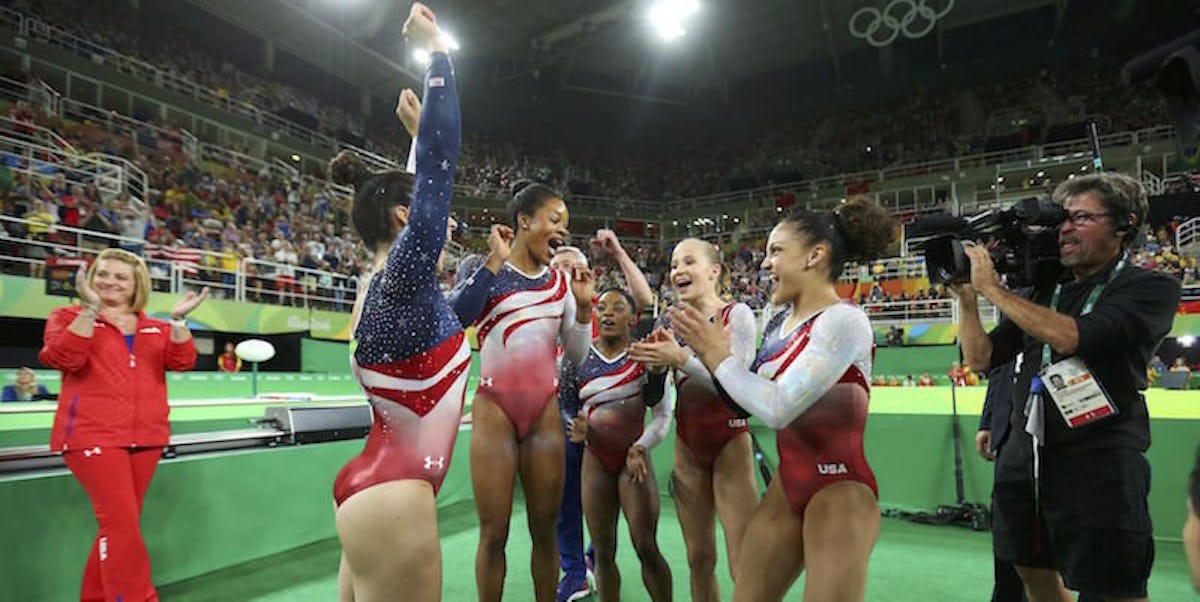 The Final Five Are Celebrating Their Rio Win With The Ultimate Squad Vacation
REUTERS
The Final Five dominated gymnastics at the Rio Olympics over the past two weeks.
After winning in the all-around team competition, the individual members of the US women's gymnastics team -- Simone Biles, Aly Raisman, Madison Kocian, Laurie Hernandez and Gabby Douglas -- went on to have their own awesome accomplishments, all the while cheering each other on.
Biles, now the most highly decorated gymnast in American history, is coming home with four gold medals and one bronze. She's got golds in team, all-around individual, vault and floor. The bronze was beam.
Raisman's got the gold from team and silvers in all-around individual and the floor exercise. Between the Rio Olympics and the 2012 London Olympics, she's the second most highly decorated American Olympic gymnast.
https://t.co/yen2WgxOhE — Alexandra Raisman (@Aly_Raisman) August 17, 2016
Hernandez got the silver in balance beam and Kocian scored silver in uneven bars. Overall, not bad, ladies...
Oh, and did we mention they all got to meet Zac Efron, who flew out to Rio just to see them?
My Olympic dream came true #Rio2016 #FinalFive pic.twitter.com/zcpPispCUS — Zac Efron (@ZacEfron) August 17, 2016
This has been an incredibly impressive Olympics for the women. They are called the Final Five to honor Márta Károlyi. Károlyi has been leading the US women to gymnastics dominance for nearly two decades, but now she's retiring. The Final Five gave her a pretty sweet send-off.
Through it all, the Final Five cheered each other on and looked like they were having a crazy fun time in Brazil (though not as crazy as Ryan Lochte, thankfully).
But the fun's not over for the Final Five quite yet.
First, they're heading on the Kellogg's Tour of Gymnastics Champions, where they'll be showing off their skills in stylized shows. Full disclosure, having been to the 2012 Kellogg's Tour, it's kind of freaking awesome to watch them in real life.
But according to Biles, they're not going to stop hanging out after the tour. She told "Good Morning America,"
We all want to go on vacation, not just one probably a couple of them. We all want to go to Belize together and then after that, we'll probably do family vacations.
Before they're able to get on that vacation, which is bound to be super cute, they have to get through the craziness of a year in the post-Olympics spotlight.
Luckily, they've got veterans Raisman and Douglas to guide them through. Biles said,
I know whenever the 'Fierce Five' got back, Aly [Raisman] told me they were really busy for a year, so I imagine that's what it's going to be like and we're just going to enjoy the time because like Aly keeps telling us we deserve it. And so, we'll just have fun and get back to work whenever things slow down, which I imagine will be a while.
But while it may look and sound like fun, especially when "Human Emoji" Hernandez laughs, always keep in mind that these young women are working harder than you probably ever will.
Raisman's already back in the gym.
See you in Tokyo? I hope so.