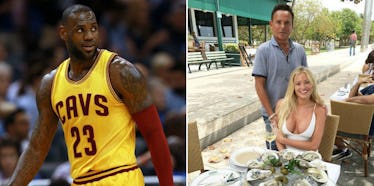 The Dan Bilzerian Of NBA Fans Has A Smoking Hot GF And Hangs With LeBron
Tuesday night, the Cleveland Cavaliers crushed the Toronto Raptors, 115-84, in Game 1 of the Eastern Conference Finals, and if that game was any indication of what's to come, this series is going to be over before you can even learn the names of the Raptors' starting five.
The game was boring AF, but that's OK because, thanks to cameras, the Internet and Twitter, we actually have a massively important talking point from this otherwise horrible excuse for an NBA playoff series.
I'm talking, of course, about Cleveland Cavaliers superfan Dennis Leebow.
Who? You ask.
Leebow is reportedly an Ohio-born steel magnate worth millions, and the reason we're talking about him this morning has a lot to do with his smoking hot girlfriend, Sierra Smebakken.
During Game 1, television cameras caught a shot of Smebakken sitting right behind the Toronto Raptors' bench, which led to an in-depth look at this colorful couple.
It turns out Leebow is basically the Dan Bilzerian of NBA fans. According to reports, Leebow, who spends a lot of his time in Miami, opened Majestic Steel in 1979, and business has been very, very good since.
In 2015, Leebow reportedly spent $15 million on two Miami homes. He also allegedly brought in Florida palm trees to Cleveland, to make it feel like Miami all year round.
Leebow is apparently boys with LeBron James, as well as other members of the Cavs, and another report suggests he once tried to hit Tristan Thompson in the face and called him the N-word after he saw the Cavs big man feeding Sierra Smebakken grapes at 2 am.
Yeah, this dude gives zero f*cks, and his Instagram account proves it. From the orange skin to his exploits with Smebakken -- check out the Dan Bilzerian of NBA fans.
During Game 1 of the Eastern Conference Finals, the cameras picked up a very attractive blonde sitting behind the Raptors' bench.
It appears that blonde is Sierra Smebakken, girlfriend of steel magnate and Cleveland Cavaliers fan Dennis Leebow.
Apparently, the couple splits their time between Cleveland and Miami...
...and lives the good life every damn day of the week.
According to reports, Smebakken is a North Dakota native, and it appears she assimilated nicely into her current lifestyle.
Judging from his LinkedIn profile, Leebow is the president and CEO of Majestic Steel.
Suddenly, I'm regretting not entering the steel business from a very young age.
In any event, it'll be a ton of fun to watch Leebow and Smebakken as they cheer on the Cavs in their pursuit of an NBA championship.
It's good to be the king, for sure, but sometimes it's better to be a majestic prince.
Citations: Meet Cavs Superfan Dennis Leebow & Girlfriend Sierra Smebakken (Busted Coverage)