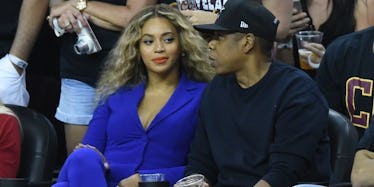 Ayesha Curry Was Apparently Late To Game 6 Because Of Beyoncé
USA TODAY Sports
If the Golden State Warriors lose the 2016 NBA Finals to the Cleveland Cavaliers, they can look at Game 6 as the moment it all went off the rails.
Late in the game at Cleveland's Quicken Loans Arena, Warriors superstar and league MVP Steph Curry was so disgusted with a foul call, he took out his mouthpiece and chucked it at a fan.
As a result, Curry was given a technical and ejected from the game. This is wild for the obvious reason, a player threw something at a fan, but also because we've never seen Steph Curry lose his cool like that.
It just doesn't happen.
In addition to the Warriors falling flat, LeBron and the Cavaliers took flight. King James played out of his skin and gave us a moment we'll never forget when he swatted the crap out of a Steph Curry shot attempt and gave the MVP the business after.
In addition to all the action on the court, there were also more than a few famous faces in the crowd. Steph Curry's wife, Ayesha, was there, but so were Beyoncé and Jay Z.
I'm sure there were plenty of good-looking people at the Q Thursday night, but Beyoncé was looking absolutely flawless.
And, when you look this fantastic, apparently you get to make Ayesha Curry wait on a bus and be late to Game 6.
Ayesha Curry was stuck on the bus because of Beyonce pic.twitter.com/3hK7Ff8zyD — Jade (@JadeBurnam) June 17, 2016
Naturally, Twitter had a little fun by combining LeBron's block with Beyoncé's swag.
Bitch think she was gonna get in the game before Beyonce? OBFN! — j. e v e r y d a y (@freeleaux) June 17, 2016
If that isn't star power, I don't know what is.
Citations: The Real Winner of Last Night's Game Was Beyoncé (New York magazine)