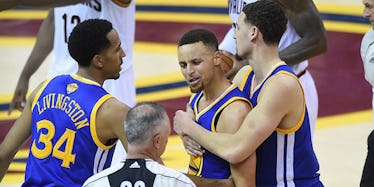 Steph Curry Got Ejected, Flipped Out And Threw His Mouthpiece At A Fan
USA TODAY SPORTS
Things aren't going so well for Steph Curry and the Golden State Warriors right now.
After looking like they were going to cruise to the NBA Championship, Golden State has now let the Cleveland Cavaliers win two straight games to force a winner-takes-all Game 7.
For Curry personally, there's been a lot of pressure, too. He hasn't played up to standards, which means a lot of people have been coming at his neck, claiming that he isn't the true MVP of the league.
Never has it looked more obvious that frustration has gotten to Curry than it did on Thursday night, when the Warriors star snapped out of character in an eye-opening and astonishing moment.
Not only did Curry get ejected and start cursing at the referee...
But he took his mouthguard and threw it at an innocent bystander
This is just beyond amazing for so many reasons.
We never, ever see Curry like this. He straight up FLIPPED OUT, and started bugging out on the referee. In essence, the family friendly people's champ lost his damn mind on national TV.
And even though he made peace with the fans after the incident, the point still remains: Steph, you were wildin' out.