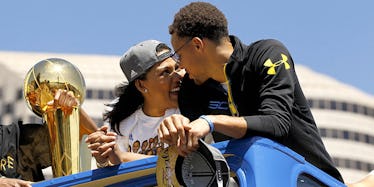 Ayesha Curry Absolutely Ripped The NBA After Steph Curry Got Ejected
USA Today Sports
Thursday night was already eventful before Ayesha Curry decided to step onto the scene.
LeBron James was having one of the best games of his career, the NBA Finals was heading towards a sure-t0-be exciting Game 7 and her husband, Steph Curry, set Twitter alight after throwing his mouthpiece at a fan following his ejection.
And it was exactly the latter of those events that prompted Mrs. Curry to take to Twitter and give the NBA a piece of her mind.
Simply put, Ayesha had no filter and decided to rip the NBA.
Her tweet caught fire instantly. Before she deleted it -- because, of course -- it had garnered upwards of 40,000 retweets.
Even after deleting that initial post, though, Ayesha continued to tweet and it looks like she was frustrated about more than most people thought.
She explained.
Simply amazing.
Both the two-time MVP and his wife lost their cool on Thursday. One thing's for sure, though, Warriors fans won't blame them as most of Golden State's fan base will probably feel they were getting cheated on Thursday night, too.
Regardless of who's right or who's wrong, though, the narrative of these NBA Finals has been set ablaze, and Ayesha Curry is definitely a part of that flame now.