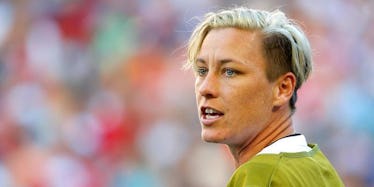 USWNT Legend Abby Wambach Plans To Destroy The Gender Pay Gap In Sports
Getty Images
Following a World Cup victory with the US women's national team this summer, the all-time leading goalscorer in US soccer history called it quits on her illustrious career.
Now, Abby Wambach is using her experience in sports and her high-profile status to dedicate the next phase of her life to abolishing the gender pay gap in sports and the workplace in general.
Speaking at a recent Fortune Most Powerful Women Next Gen Summit in San Francisco, the 35-year-old Wambach said,
Enough is enough. I'm not, like, male-hating. I believe we need them, too. But the reality is that people are brought up thinking that women are inferior.
Well said, Abby. Best of luck on your most challenging task to date.
Citations: Abby Wambach's Chill Plans for Retirement: Solving the Pay Gap (New York magazine), After Soccer, Abby Wambach Wants to Tackle Gender Inequality (Fortune)