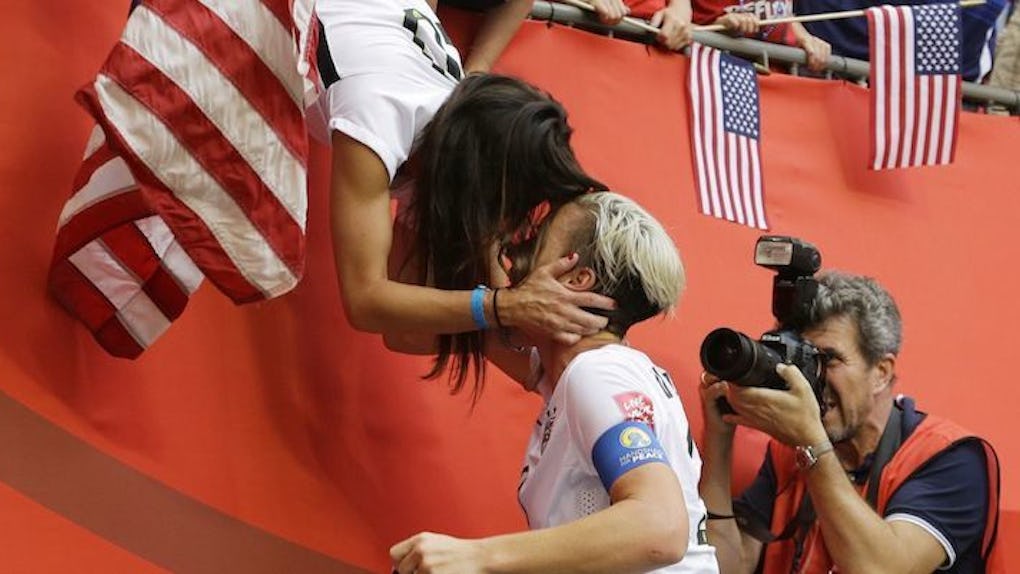 Twitter
Abby Wambach Seals The US World Cup Win With A Kiss From Her Wife
Last night, the US women's national soccer team crushed Japan 5-2, winning their first World Cup since 1999.
And no player was more relieved than the US team's all-time leading goalscorer, Abby Wambach.
A World Cup title was the only thing missing from the 35-year-old former FIFA World Player of the Year's trophy cabinet, but now her career finally came full circle.
After the match, Wambach found her wife, Sarah Huffman, in the stands and kissed her in a display of love, celebration and relief.
Wambach publicly stated this is probably her last World Cup, and if that's the case, there's surely no better way to go out.
Watching Abby Wambach kiss her wife after winning the World Cup on repeat. Look how far we've come. #LoveWins #USWNT https://t.co/UHtqpXKNnj — Alex Goldschmidt (@alexandergold) July 6, 2015
Citations: Abby Wambach, wife Sarah Huffman share kiss after U.S. World Cup win (CNN)