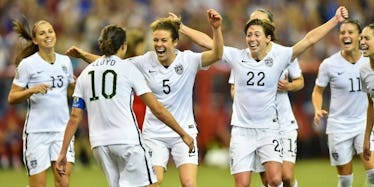 Most Women Playing In The World Cup Earn Less Than Minimum Wage
Facebook
On Sunday, at BC Place Stadium in Vancouver, the United States will battle Japan for the ultimate prize in women's soccer.
And while the match is already ripe with more storylines than a mid-season episode of "Game of Thrones" -- four years ago, Japan beat the US on penalties to win the World Cup, and this is probably Abby Wambach's last time representing America at a World Cup -- there is a less-publicized tale underlining this entire tournament, entire sport, that needs to be told.
At the 2015 Women's World Cup, the examples of FIFA's utter disregard for the women's game read like a laundry list.
There's the turf fields, the gender verification testing that both England and Germany experienced just before the start of the tournament and the fact that on the eve of the United States' semifinal match against Germany, FIFA's own website referred to US forward Alex Morgan as "a talented goalscorer with a style that is very easy on the eye and good looks to match."
You can't make this stuff up.
And this is only a few weeks' worth of inherent sexism; imagine what women's soccer has been facing for years.
What does embattled FIFA head honcho Sepp Blatter have to say about all of this?
Well, he won't be attending Sunday's final, because, you know, he's got more important matters to tend to in Zurich (Not getting arrested is probably at the top of that to-do list.).
Think Sepp Blatter's corrupt? Then he thinks you should go to prison. He's pretty amazing. http://t.co/YOT7Sd6W2S pic.twitter.com/S0gD5lPIDZ — Soccer Gods (@soccergods) July 2, 2015
Remarkably, though, the ladies of the 2015 Women's World Cup have taken everything in stride.
When it was announced back in 2013 that this summer's tournament would be played on turf, despite numerous companies offering to install real grass for free, 84 players from 13 different countries brought a gender discrimination lawsuit against FIFA and the Canadian Soccer Association.
When it became clear soccer's global governing body wasn't going to budge, the women brushed themselves off and decided to take the higher ground.
US veteran forward Abby Wambach told Elite Daily,
It wasn't the outcome we wanted, but we're moving forward. We can't do anything about it. We filed the lawsuit too late, and FIFA was just going to slow play it until after the world Cup. And obviously that would make no difference, whether we won or not.
But one thing professional female soccer players can't move on from is the gross wage disparity between themselves and their male counterparts.
In the United States, 1.4 million girls play organized soccer, yet we haven't seen a professional league last longer than three years.
In Germany and Sweden, where the women's game is considered to be in better shape than most countries, average attendance still only hovers around 1,000.
The National Women's Soccer League -- America's current women's pro league -- pays its players anywhere between $7,000 and $38,000 a year, which is less than minimum wage in most US cities.
The result: Most NWSL players are forced to obtain a second job just to stay afloat, and many, like USWNT members Meghan Klingenberg and Morgan Brian, live with host families during the season.
I'm pretty sure most aren't as lucky to live with a host like Jeff Van Gundy, either.
So neat. Love that Van Gundy's opened home. They got two gems in Kling and Morgan. https://t.co/IFzvGzxwTh — Julie Foudy (@JulieFoudy) June 25, 2015
Sure, US superstar Alex Morgan makes roughly $3 million a year, but $2.8 million of that annual take comes from endorsement deals with Nike, McDonald's and Coke; an opportunity most female players rarely encounter.
And yes, soccer federations of countries like the United States, Canada, Mexico and England can foot the bill for many, if not all of its national team members, but those players are just individual grains of sand on a beach.
England's Women's Super League, which has been in business since 2011, boasts a select few players who can make close to $101,400 a year, but similarly to the US, this is far from the norm.
Matthew Buck, an agent with England's Professional Footballers' Association, said,
There are players in the WSL who are on as little as $78 a week.
That is not a living wage.
By comparison, the average male playing in one of Europe's top four leagues -- England, Germany, France or Italy -- pulls in about $2.3 million a year, which breaks down to roughly $47,000 a week.
That means, in most of Europe, men are making about 602 times more than women as professional soccer players.
And aside from the immediate hazards of making less than minimum wage, the overwhelming implication is that unless things change, women's professional soccer could struggle to maintain long-term survival.
Since most women can't make enough to pay the bills, they're being forced into early retirement in order to have a better opportunity at getting a more lucrative career position.
While it would be unfathomable for a male player to retire in his prime, it's really the only safe play for a female soccer player.
Rebecca Moros, of the NWSL's FC Kansas City, said,
If you want a job in some other field, you're putting yourself at a big disadvantage by continuing to play. When you're starting your career at 30, you're way behind.
Think about it this way: Do you have better odds of getting a job fresh out of school, or after you've been sitting on your ass for eight years?
Obviously, there's a radical difference between struggling to make it as a professional soccer player and straight-up living in Mom's basement, but to a prospective employer, who has to make sure an employee is ready to go as soon as he or she is hired, it starts to look an awful lot like the same thing.
The NWSL's Portland Thorns have an average attendance of 13,320, which is more than three times the league average, yet they still have a player, 26-year-old Nikki Marshall, who recently retired due to the low wages she received.
She said,
I don't think people realize the lifestyle we live when we play. Most everybody has a second job.
Those outside of women's soccer look at the NWSL's Portland Thorns and see a success, but most of their players are scrapping for their soccer survival.
The rest of the NWSL looks at the Portland Thorn's players with envy.
And England's WSL looks at pretty much any NWSL team and sees a better opportunity.
Representing your nation at a World Cup is the highest honor bestowed upon a soccer player, but when those 22 women take the field on Sunday night, remember the countless others who will be struggling to make ends meet come Monday morning.