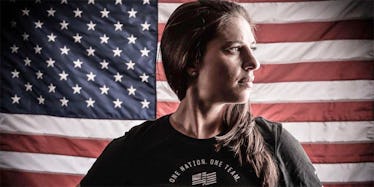 How The Women's World Cup Became The Most Sexist Event In All Of Sports
Facebook/Carli Lloyd
Rarely do we witness such a clear and undebatable instance of sexism.
You could, for instance, strongly and very credibly argue that the way in which we discuss female athletes versus their male counterparts perpetuates the over-sexualization of women.
But at the end of the day, there's still a lot to explain there, and so much can get lost in translation.
This one, though, needs little elaboration.
One of soccer's open secrets is that the game is a hugely inferior product when it's played on artificial turf instead of natural grass.
On turf, the ball bounces awkwardly, passes cannot be made as smoothly and the surface is harsher on players' bodies.
ESPN's Sports Science laid out some of the more intricate reasons as to why playing soccer on artificial turf is far from ideal in this video:
The bottom line, though, is simple to understand.
The game looks worse when it's not played on grass, and the idea of staging the sport's grandest event on an unnatural surface is unthinkable.
That is, unless, the event features women.
When the US women's national team opens play at the FIFA Women's World Cup tonight, it will do so on artificial turf.
In fact, for the first time in history, the whole tournament will be played exclusively on the synthetic surface, which American forward Sydney Leroux has compared to concrete.
So egregious is the arrangement that 84 players from 13 countries filed a gender discrimination lawsuit against FIFA and the Canadian Soccer Association.
The premise was as simple and clear as any case that centers on sexism could possibly get.
FIFA would never, ever stage a men's World Cup on turf.
The fact that women are subjected to playing on turf fits in well with FIFA's culture, too.
Last September, different players, past and present, spoke to Sports Illustrated's Grant Wahl about the instances of sexism they've witnessed inside world soccer's governing organization.
US all-time leading goal scorer, Abby Wambach, for instance, told Wahl that FIFA president Sepp Blatter might genuinely have no clue as to what the world's best female player looks like.
Wambach said this while citing one experience during which Blatter mistook Wambach's wife, Sarah Huffman, for Brazilian star, Marta. She said,
It's a shame that at one of the biggest events I've ever been invited to, the president of this organization that I'm a part of didn't know who the best women were.
Then, there's the now-infamous, almost unbelievable comment Blatter made about the women's game years ago.
He was quoted in 2004 by The Guardian as saying,
They could, for example, have tighter shorts. Female players are pretty, if you excuse me for saying so, and they already have some different rules to men -- such as playing with a lighter ball. That decision was taken to create a more female aesthetic, so why not do it in fashion?
And we haven't even gotten to the "endemic sexism" that anti-bribery expert Alexandra Wrage cited, along with the organization's unwillingness to change its culture of corruption when she resigned her post within FIFA.
Wrage's accusation, furthermore, sounds just about right for a body that counts only one woman, who was elected in 2013, among its 24-member executive committee.
All of these are symptoms of an organization that lacks gender diversity and stinks of sexism.
But none of them compares to the stench that will be on display all month in Canada.
The women dropped their suit in January, having recognized that virtually no legal victory would be possible before the World Cup began.
Wambach told Elite Daily on media day,
It wasn't the outcome we wanted, but we're moving forward. We can't do anything about it. We filed the lawsuit too late, and FIFA was just going to slow play it until after the World Cup. And obviously that would make no difference, whether we won or not.
The women will play on artificial turf for the whole of the tournament.
These women, like many already are in so many organizations around the world, will be openly discriminated against in the workplace.
And if you really don't know what that looks like, don't worry. Tune into the Women's World Cup and it will teach you.