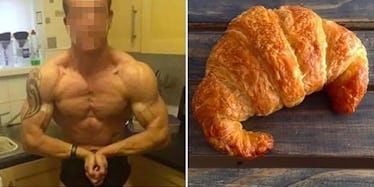 Woman's Realization That Tinder Guy Looks Like Croissant Has Internet In Tears
Facebook
Dating apps like Tinder tend to be full of flaky people.
If you don't believe me, just ask Katie McCarthy.
McCarthy is a 27-year-old woman from Stockton-on-Tees, England, who recently found herself single after calling it quits with her partner of 11 years.
So McCarthy did what anyone in her situation would do and decided to try her luck in the digital dating world by downloading the popular app, Tinder, just "for a laugh."
If you've ever had the pleasure of swiping through Tinder in search of your soulmate, you've probably realized Tinder mainly consists of shirtless douchebags posing with tigers, terrible pick up lines and the occasional unsolicited dick pic.
And of course, there are tons of dudes who ghost you after making plans to meet up for a real-life date.
However, McCarthy came across a man who took flakiness to a whole new level.
After examining the man's profile picture for a few minutes, McCarthy suddenly realized the shirtless dude seemed to remind her of a flaky French pastry.
That's right. This Tinder guy looked exactly like a croissant.
I'm not sure if it's the way this man is flexing his arms into a weird AF crescent shape, his golden-brown complexion or simply a combination of the two, but it's not hard to see why she thinks this man basically looks like a lumpy croissant trapped inside the muscular body of a fuckboy.
According to McCarthy,
Online dating is not something I would normally do. But I was bored and thought it would be a laugh. I'd only been on there an hour or two when I came across this guy. It was his main photo. My first impression when I saw it was a croissant – that's what popped into my head. I couldn't stop laughing.
After making this delicious discovery, McCarthy decided to post a photo of this drool-worthy dude alongside a picture of his doughy doppelgänger on Facebook.
As you can imagine, it didn't take long for the internet to whip up a fresh batch of #CroissantMan memes inspired by McCarthy's left swipe.
McCarthy did cut the croissant-shaped man a little slack, stating,
To be fair, he looks quite good in some of his other pictures on the site, but for some reason he has chosen this daft one as his main photo.
However, McCarthy ended up swiping left on this flakey fella because he simply didn't fit her personal taste in men.
Citations: Woman mistakes man on Tinder for croissant (Metro)