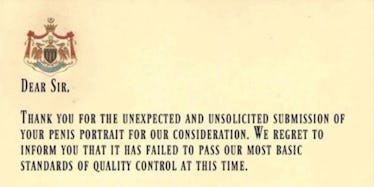 Savage Woman Sends Formal Rejection Letter In Response To Unwanted Dick Pic
Twitter
Being a woman on the Internet is basically like walking blindfolded through a mine field... while juggling mines.
Take Australian model Emily Sears, for example. She has over 3 million Instagram followers, and is constantly flooded with unsolicited dick pics.
Sears has long made it a point to call out these chicken shits. She even went so far as to post this telling exchange with one follower who seemed genuinely shocked and surprised that she did not send him a bouquet of roses after he sent her a photograph of the thing he pees out of.
But when it comes to dick pic shaming, the internet's magnum opus is surely this post from Sarah-Louise Jordan, where she addresses a man who sent her a picture of his jizz spitter in a very formal rejection letter.
It basically looks like a rejection letter from Hogwarts. But it's for penis pictures.
Let's break it down.
Dear Sir, Thank you for the unexpected and unsolicited submission of your penis portrait for our consideration.
(UPDATE: "Penis portrait" has officially just secured the record for quickest expression to ever be submitted to Urban Dictionary.)
We regret to inform you that it has failed to pass our most basic standards of quality control at this time.
The basic standards of quality control include, but are not limited to 1) not being forced on others and 2) nothing else.
However, for a nominal fee, we can offer you a report that will help you to change that. The A4 report, provided via postal service, will include personalized booklets that cover the following: - Why genitals are not an acceptable conversation opener (a step by step guide to saying hello) - How to appear as though you weren't raised by wolves
(Actually, wolves do not possess opposable thumbs nor the humanoid instinct to use their sexuality to intimidate and disgust others. They just use "biting to death" for that.)
- Better ways to deal with your sexual frustration - How to dress your penis for social media (a rough guide to pants) AND - Penis-reading: a new form of palmistry that may help you unlock the key to your future.
We will also answer questions you might have such as: - Do I have too much time on my hands? AND - Why did my penis fail basic standards of quality control? (Note: The number one reason for this occurring is that it is attached to a bigger dick than itself.)
HELP! I HAVE THIRD-DEGREE BURNS ALL OVER MY BODY.
SERIOUSLY! I NEED HELP. SEND HELP. THIS IS NOT A JOKE. I AM ON FIRE.
It is a joke. I made a joke. If you enjoyed it, you disgust me. Dying by fire is not funny.
You need to take a long look at yourself in the flimsy full-length mirror hanging from the back of your door and grow up.
Finally, as a gesture of goodwill, we intend to offer two free samples with ALL of your future penis portrait submissions: An inventive critique of your pride & joy AND A surprise consultation with your closest available family member about your portfolio. We trust this exciting offer is acceptable and look forward to working with you in the near future.
The post was shared by Twitter user @maellevie, and people are losing it. Here are my two favorite responses to ride out on.
Sarah-Louise Jordan, wherever you are, we salute you.