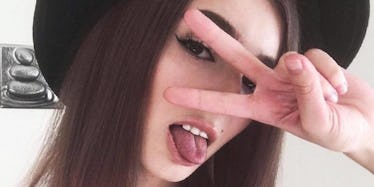 Tinder Match 'World Record' Holder Has Strategy So Strong She Needs Disclaimer
Instagram
Not too long ago, we introduced you to Jazz Egger — you know, that model who made headlines after she rewrote all of her captions in order to show people how much work goes into snapping the perfect Instagram picture?
Well, it turns out this this gorgeous 19-year-old isn't just turning heads by writing brutally honest captions on social media.
Apparently, Egger is also re-writing history... Tinder history, that is.
The Instagram model claims she has set a "world record" for Tinder matches in just a few short months.
Egger says she has racked up a whopping 5,400 right swipes since downloading the dating app, while most of us can't even get the pitiful number of people we match with to message us back.
The London-based model says she has so many right swipes, likes and even super likes, she simply can't keep up with all of the modern-day Romeos.
Let's be real: Having too many guys who want to take you out on romantic dates sounds like a terrible, terrible problem to have.
Egger recently told Mail Online,
I downloaded Tinder some months ago and I think I might have reached a world record. I travel a lot and people keep super liking me [every Tinder user has one Super Like to give away per day].
Egger just assumed being showered in "super likes" was the norm, until friends told her that unlike gorgeous supermodels, most women only get about one of two of these coveted likes each month.
According to Egger,
I reached a point where I couldn't answer everyone anymore, because I had swiped right on every super like.
In fact, Egger became so overwhelmed by her Tinder suitors, she eventually added a message to her profile that read,
Sorry this is getting out of hand. I can't answer everyone anymore. I only reply if your message is super interesting. Hope you understand.
You would think some people might be discouraged to swipe right on Egger due to the fact that this young model gets an insane amount of matches each day.
However, Egger said her disclaimer "improved her Tinder game even more."
Apparently, a lot of people viewed Egger's words as a challenge rather than a threat.
According to Egger,
I would receive the craziest pick-up lines and unbelievable offers. I even matched with Conor Maynard and other well-known musicians, YouTubers and actors. Another crazy offer was when a guy invited me for a week in Greece on his yacht. He offered to pay for everything, even my flight — just so he could have a chance. Of course, I declined that offer.
Despite matching with 5,400 men, Egger has only been on 20 Tinder dates and is still searching for her right swipe in shining armor.
However, she has had a lot of "interesting conversations" as a result of the dating app.
Plus, Tinder has even helped her score modeling jobs with some of the fashion designer who have come across her.
If only we could all be such a hot commodity on dating apps.
Citations: Model claims she's had the most Tinder matches EVER as 5,400 men including Conor Maynard swipe right on her profile (MailOnline)