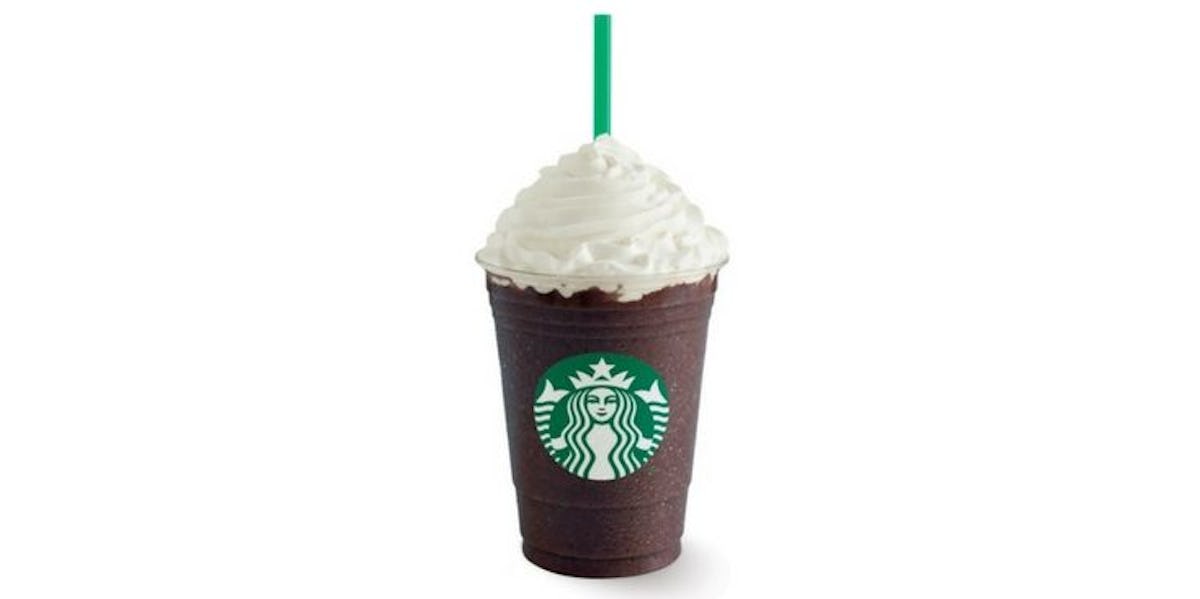 Starbucks' Dark Mocha Frappuccino Is Finally Available Nationwide, So Drink Up
Starbucks
Hey, so remember how Target announced its limited edition Target drink, the Dark Mocha Frappuccino, and how people were bummed because it wasn't available at all North American Starbucks locations? Well, guess what? It is now! The company snuck the exciting news into a press release debuting its fall lineup. With the question of where to get Starbucks' Dark Mocha Frappuccino cleared up (answer: nationwide at participating stores), we can officially talk about the important details — like what TF it tastes like.
The Dark Mocha Frappuccino is made with a blend of extra dark cocoa, coffee, milk, and ice.
Once all the ingredients are blended together, forming that beautiful and familiar frappuccino texture, the "rich and fudgy blended beverage" is poured into Starbucks' signature iced drink cups with a dome-shaped lid and topped with whipped cream. As its darker brown hue suggests, each sip of the Dark Mocha Frappuccino exudes dessert-level flavors that are more full-bodied and, let's be real, more chocolatey than the regular Mocha Frappuccino.
In the Aug. 21 blog post on Target's website that initially debuted the new frappuccino flavor, the popular store — which has 1,500 U.S. locations with Starbucks cafés inside — expressed excitement over being able to offer customers a first taste. Target wrote,
For more than 18 years Starbucks has been a part of your Target run, and our guests especially love Frappuccino so we're excited to offer a first sip of the new Dark Mocha Frappuccino. So hurry in and get a first taste of the chocolatey deliciousness while supplies last!
It's not uncommon for Target's Starbucks to get bonus menu items or exclusives, but the DMF's release was a bit more low-key than usual. Though Target shared the news on its corporate blog in August, it actually didn't start receiving media coverage until Monday, Sept. 11, when outlets like Food & Wine and POPSUGAR noticed happy customers posting about it social media.
For example, one Instagram user, @michaelgreywolf, shared a photo of his drool-worthy Dark Mocha Frappuccino, writing, "My treat to myself for being at work since 2 AM today. The new Dark Mocha Frap at #Starbucks." While another Insta user, @mrsmincey12, shared a lifestyle shot of her DMF strapped securely into a Target cart (aka exactly the kind of treatment this heavenly drink deserves).
Before Starbucks made the Dark Mocha Frappuccino a widespread menu item, a company representative confirmed to Food & Wine that all locations had the key ingredient — extra dark cocoa powder — because it's used to make their summer drink, the Midnight Mint Mocha Frappuccino. So, it has technically been available all along. You just had to ask your barista to make it by naming the ingredients.
As of Friday, Sept. 22, however, the DMF secrecy is over, and it's going to be available at all participating locations in the United States and Canada, Starbucks confirmed in a press release on Thursday, Sept. 21.
Before you completely trade in frozen drinks for your fall favorites — *cough, the PSL, cough* — I'd recommend indulging in this dessert-like frappuccino at least once. Sure, it doesn't come in the fancy new jewel-toned cups or taste like it was made out of pancakes à la the (also new) Maple Pecan Latte, but the Dark Mocha Frappuccino is just as festive.
I mean, it's basically a drinkable dark chocolate bar spiked with coffee. Is there a better way to start the day? I've got to say no, because chocolate is #life. Now you just have to decide whether you're getting a Tall, Grande, or a Venti.
Check out the entire Gen Why series and other videos on Facebook and the Bustle app across Apple TV, Roku, and Amazon Fire TV.