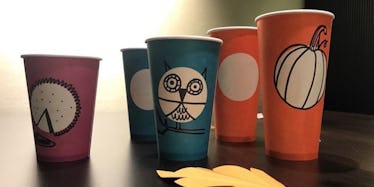 Starbucks' New Fall Cups Will Inspire You To Get Creative This Halloween
Amanda Fama
On Thursday, Sept. 21, Starbucks announced its new fall drink — the Maple Pecan Latte — as well as another super exciting addition to our morning routines: New. Fall. Cups. Just like the Spring Cups released earlier in 2017, the jewel-toned fall versions are made to feature your best autumnal doodles. A Starbucks spokesperson tells Elite Daily that, while some will come pre-doodled with illustrations (either a pie, an owl, or a pumpkin), some cups will be ready for customers to customize, featuring a blank white circle in the middle. Scroll on to see photos of Starbucks' fall cups that will make you say, "Is it Halloween yet?"
When it announced the Spring Cups back in March, Starbucks made a point to remind fans it has been upping its cup game for a while now. The chain said in a press release,
Starbucks first began offering seasonal cups more than 20 years ago with its first holiday cup and has since introduced cups celebrating autumn and summer.
Decades later, its fall '17 cups are just as festive.
The cups come in three stunning jewel tones.
One is a pumpkin-colored orange hue that practically embodies everything we love about the company's classic seasonal drink, the Pumpkin Spice Latte. Another is a warm blue shade that provides a pretty contrast to its orange counterpart. The third is a plum-colored cup that's just as cute. Unlike the bright spring cups, each of the new releases has deeper undertones for moody cool weather vibes.
All things considered, once the fall cups are available on Friday, Sept. 22, it will be very possible to walk into your local 'Bucks, order your daily PSL, and wind up getting it in an orange cup with a pumpkin drawn on the front. How cool is that?
Coffee fans will have the most creative control over the cups that come without a pre-drawn illustration. If your cup — orange, blue, or plum, it doesn't matter — comes with a blank white circle, you're able to fill it in with whatever doodles your heart desires. Maybe a couple of leaves falling? Or a witch hat to pay homage to your inner spellcaster?
The company loves seeing its customers' creativity shine, a Starbucks spokesperson tells Elite Daily, so be sure to share a photo (or nine) of your brilliant cup drawings on social media.
These cups are the perfect serving vessel for Starbucks' seasonal drinks, including the new Maple Pecan Latte.
Baristas across the United States will start serving up the Maple Pecan Latte beginning Friday, Sept. 22. Flavor-wise, the espresso and steamed milk drink boasts hints of maple syrup, pecan, and brown butter. It also comes topped with an exclusive Autumn Sugar Topping, which resembles pretty orange sugar crystals.
My editor here at Elite Daily, Amanda Fama, was lucky enough to taste the Maple Pecan Latte ahead of its release. "It's sweet, but not too sweet," she told me afterward. "And not too 'maple' either. It's literally like pancakes in a cup."
If the promise of drinkable pancakes doesn't make you want to order an MPL as soon as possible, I'm not sure anything will. However, should you be planning on placing an order, know that the cost is similar to the PSL, ranging from $4.25 to $4.45 for a Tall. Not exactly cheap, but that's the price one must pay for Starbucks' take on delicious maple-flavored coffee served in a cool cup.
Dunkin' Donuts released a similar flavor back in August, and I'm eager to compare the two coffees. But nothing can outshine Starbucks' new fall cups, TBH. Mine will be covered in doodle masterpieces.
Check out the entire Gen Why series and other videos on Facebook and the Bustle app across Apple TV, Roku, and Amazon Fire TV.