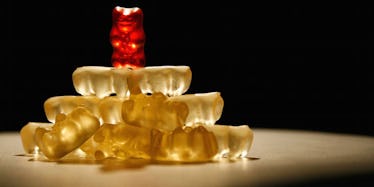 Fireball Gummy Bears Are Here To Be The Hottest Treat At Your Boozy Summer Bash
Etsy
UPDATE: On Saturday, Oct. 21, Irish Confectionery Co. emailed Elite Daily to say that their Fire Cubs are back in stock. They were not actually "taken down" as we previously reported, rather they sold out quickly after receiving lots of press in June. "That issue has obviously now passed, and we're back to business as usual," they say. Time to order those Fire Cubs guys!
EARLIER: Fireball Cinnamon Whiskey is one of those things you either love or loathe. And if you love it, prepare your summer tastebuds for their boozy gummy bears debut.
That's right: Rosé gummy bears can take a seat. It's Fireball's turn to shine in gummy form so they can heat up our mouth at every party henceforth.
The most important question I'm here to answer is this: Where one can purchase these must-have gummies?
Delish recently uncovered a Denver-based Etsy shop, Vine, that sells its own version of the hot treat. You can snag bag of "Fire Bears" (great name, huh?) starting at just $9.95. For an additional $20, you can even get your own custom labels to ensure your bears really stand out.
I'm sold on all of it, to be completely honest.
Delish mentioned another shop, Irish Confectionery Co., in their post, but unfortunately their similar listing has since been taken down.
Sadly, everyone's favorite Instagram-ready brand, Sugarfina, has yet to jump on the cinnamon bandwagon. As soon as they do, I will be purchasing.
Right now, I'm sure you're thinking, "But can't I just soak a bunch of generic gummy bears in Fireball and make these myself?" 
Don't worry -- you definitely can! The "Fire Bears" are pretty much the same thing just sans all the DIY effort.
However, should you feel up to getting your hands dirty and covered in h-o-t whiskey goodness, this super easy recipe video might help guide your efforts. Going this route means you can add as much booze as you want. So that's an added bonus, right?
(I've already added the ingredients to my weekend shopping list, TBH.)
As with anything boozy, whether you buy your gummies or make 'em, please munch on these responsibly!
Pro tip: these will go exceptionally well mixed with Pepsi's new flavor, Pepsi Fire. It's officially the Summer of Cinnamon, y'all.