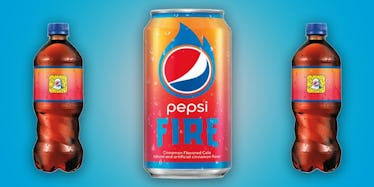 Cinnamon-Flavored Pepsi Will Be The Perfect Mixer For Your Fireball This Summer
Pepsi
The past few months have been pretty rough for Pepsi, but it looks like the company is coming back hot with a brand new soda flavor.
If you're a fan of spicy goodness with a kick of heat... you're probably going to love it.
The new flavor is called Pepsi Fire and it's going to taste like cinnamon. The mega soda company is pegging the new beverage as the "hottest drink this summer," and I'm pretty stoked to give it a try.
Once you think about it, Pepsi Fire is going to bring mixers to a whole new level.
Could you imagine how delicious it would taste to mix Pepsi's cinnamon soda with Fireball Cinnamon Whiskey?! As an avid whiskey-lover with a soft spot for spice, the pairing seems too good to be true.
Apparently, I wasn't the first person to think about Fireball when Pepsi Fire made its way to the spotlight.
When Pepsi Fire was released as a Slurpee flavor at select 7-Elevens earlier this week, users commented on photos of the slushy and suggested the delicious combo.
One user Instagram user named Eric  said, "I'm not saying Fireball would go great with this... but I'm also not saying it wouldn't."
I feel you, Eric.
After Pepsi released their new cinnamon drink as a Slurpee, people grew curious about whether or not the company would release the beverage in bottles and cans.
Of course, they took their curiosity to Twitter and found leaked pictures of the unreleased flavor.
It was as if Pepsi heard our cinnamon soda prayers, because they just announced the big release of bottled and canned Pepsi Fire.
According to a press release by PepsiCo, the cinnamon soda will be released in stores nationwide on May 22 for an eight-week period. It'll be available in bottles and cans, so stock up while you can.
Oh! To make the soda even hotter, Pepsi is holding a promotion where people can check their specially-marked bottles of Pepsi Fire, Pepsi, Diet Pepsi, Pepsi Zero Sugar and Pepsi Wild Cherry for Snapchat codes that'll unlock a bunch of cool prizes.
Yup. It seems like Pepsi is buttering us up with fancy flavors and prizes, and I think it's working.