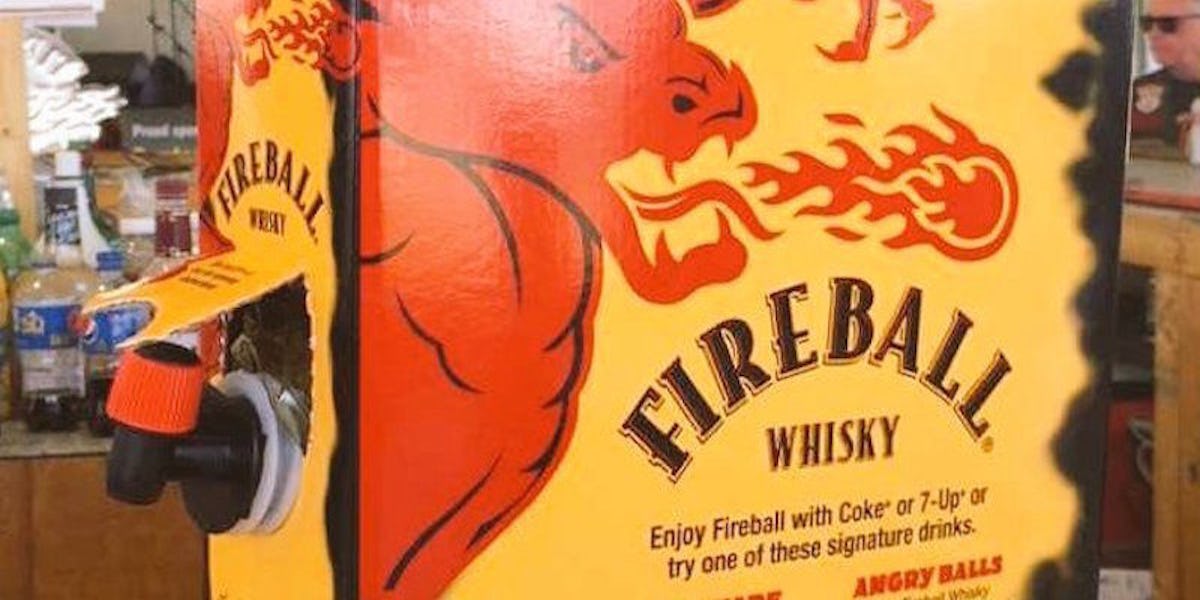 You Can Now Get Boxed Fireball, So Good Luck Remembering Your Holiday Parties
Twitter
'Tis finally the season for holiday parties, so you know what that means.
Over the next month, your calendars are going to be jam-packed with all sorts of festive gatherings that range from ratchet office parties and intimate family affairs, to seasonal sweater soirees that let you show off your ugliest Christmas sweater.
If you've been searching for the ultimate present to give all of the degenerates on your shopping list, I have some good news for you.
We just found something that's guaranteed put you in the holiday spirit.
Fireball just answered all of your holiday prayers by giving the gift of boxed Fireball.
Yes, you read that correctly. Fireball now comes in boxed form.
So you can turn up all season long by chugging cinnamon-flavored whiskey straight out of a big-ass cardboard box.
Seriously, I'm not sure if I'm overjoyed or terrified for my well-being.
Apparently, the boxed booze is pretty similar to the boxed wine everyone drank back in college.
This bad boy contains not just one, but two 1.75 liter bags of booze, so yeah, this thing is basically a blackout waiting to happen.
But let's be real: Everyone knows that it's not the holidays unless you get drunk and make an asshole out of yourself in front of all your colleagues at the Christmas party.
This box of whiskey is perfect for spicing up your holiday house party with a next-level game of slap the bag.
Plus, it's basically guaranteed to make your weird, annoying relatives seem a hell of a lot more bearable.
If you're looking to snag one of the almighty Fireball boxes, you can get you're hands on one of these bad boys for around $50 a pop.
However, these boxes are in limited supply, so you might not want to wait until the last minute to do your holiday shopping.
Citations: Apologize to your liver today because you can now get Fireball in a box (The Tab)