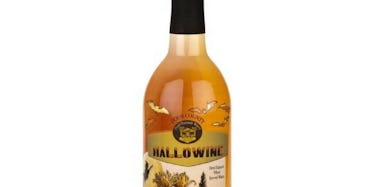 Halloween Wine Called "Hallowine" Is Here To Make Your Holiday Extra Boo-zy
Door Peninsula Winery
Though the glory days of trick-or-treating for bags and bags of Halloween candy are over, the wine makers behind a Wisconsin-based winery are ensuring we stay extra festive this holiday with a scary-good, er, brew. I'm not kidding, they crafted a sweet varietal so good you'll forget all about your lack of candy. With that being said, meet your new favorite bar cart addition: Halloween wine by Door Peninsula Winery, adorably called "Hallowine."
With an affordable $10 price tag, "Hallowine" boasts semi-sweet, fall-inspired notes of apple, cinnamon, and nutmeg with each sip. On their website, Door Peninsula Winery's description of the spooky recipe reads,
Sweet Apple wine heavily spiced with cinnamon and nutmeg. Serve this sweet, mulled wine warm for a sassy cider substitute.
But its versatile, apple cider-like flavors aren't even the most autumnal thing about this bottle. Nope, its packaging is enough to make anyone scouring the wine aisle for a new brand do an immediate double take. Featuring a gradient orange 750-milliliter bottle and a scene straight out of Disney's Halloweentown on the label, you could say "Hallowine" lives up to its Halloween-themed namesake. Try naming another wine label with pumpkins, jack-o-lanterns, and black cats on it. I'll wait.
In addition to its eerie packaging, I've got to say that Hallowine's ABV ain't too shabby either. At 11 percent, it's bound to get your holiday party started on its own -- or, if you're feeling fancy, as a fall sangria infused with seasonal fruit.
Alas, Door Peninsula Winery didn't stop there when crafting their October-ready lineup. They also created a full-bodied red called "Witches Brew" that comes in a bold, purple gradient 750-milliliter bottle with a witchy label. (Seriously, there's a witch flying across a moonlit sky on it. My inner witch is already obsessed.)
As for flavors the spellbound recipe contains, the bottle teases a fruity blend, calling it "a semi-dry grape, plum, and strawberry wine." Door Peninsula Winery is a tad more descriptive on their website, describing their (also $10) "Witches Brew" like this:
This fantastic red wine is a traditional blend of three wines: Syrah, Plum and Strawberry. Blended as a fun and seasonal wine, Witches Brew is semi-dry having a touch of residual sugar and has a rich tannin structure from the Syrah. It's your choice to drink it slightly chilled or room temperature.
Personally, I'd drink it chilled like my soul.
If you're trying to decide between "Hallowine" and "Witches Brew" — and you're not getting both — perhaps the latter's slightly higher ABV of 12 percent will help make that decision easier. Otherwise, it's all about aesthetics. "Witches Brew" definitely has more of a vampy vibe, while "Hallowine" is equal parts fall- and Halloween-inspired.
Both bottles can be ordered straight on Door Peninsula Winery's website. However, by law, they can't ship to Wisconson addresses. What's more, the brand automatically applies a generous 10 percent discount to your cart when you order six bottles and a 20 percent discount when you order 12.
Before you start purchasing all the Halloween wine your bar cart can store, remember to drink responsibly and start planning your costume ASAP. Though it feels like September only just began, I promise October will be here before you know it, and you have to be prepared for that inevitable onslaught of Halloween festivities. Need some costume ideas? How about a DIY Salt Bae look or a slay-worthy Game of Thrones ensemble? Or, if you're on a budget, Elite Daily has a list of affordable ideas you can re-create for less than the cost of one Pumpkin Spice Latte from Starbucks.
Cheers to Halloween and my top pick for October's Wine(s) of the Month!