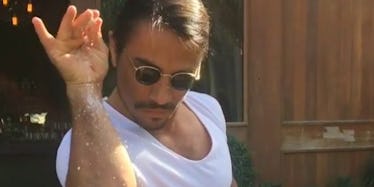 How To Make A Salt Bae Costume That'll Add So Much Flavor To Your Halloween Party
Instagram
We all know #SaltBae quickly became an internet phenomenon earlier in 2017 after a video of him expertly salting a slab of meat went viral. It's the one that shows "Salt Bae" (Nusret Gökçe) sprinkling salt down his extended forearm with a posh flick of the wrist. Since #SaltBae is one of the shining moments in an otherwise tumultuous 2017, it makes perfect sense to pay homage to the seasoning expert with a DIY Salt Bae Halloween costume.
The look is actually super easy to re-create, considering the popular Turkish chef and owner of Nusr-Et Steakhouse frequently wears a simple ensemble of black trousers, a white t-shirt, and sunglasses. Keep reading to find out how to transform yourself into an honorary Salt Bae in four easy steps this October.
Step 1: Put On A Form-Fitting White Tee
If you don't already have one hanging in your wardrobe, Madewell's Whisper Cotton V-Neck Pocket Tee will do the job. It's only $20 on Madewell's website.
Step 2: Step Into Your Favorite Black Trousers
A skinny fit will look extra #SaltBae-like when you tuck the tee in like a true chef.
Step 3: Tie Your Hair Back Into A Bun
One of Salt Bae's most attractive qualities is his man bun. Re-create the pulled-back style to really channel the iconic meme.
Step 4: Accessorize
Once you have the basic look together, it's time for the fun stuff: accessories! Wear a pair of rounded sunnies, fashionable sneakers, and an optional fake mustache for a finished ensemble. Then — and this is the fun part — pick your salt and faux meat slab of choice to ensure you can perform your best salt sprinkling on command. (I'd recommend a dog toy that looks like a steak.) You can even take it up a culinary notch with a fake knife.
Should all else fail, here's a wild thought: You can skip all the steps and just wear a Salt Bae shirt like Rihanna in this 'gram.