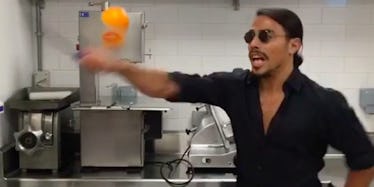 Salt Bae Turns Into 'Fruit Ninja' In Impressive New Vid That'll Make You Swoon
Instagram
Salt Bae is getting sexier and sexier, you guys.
The internet's hottest chef gained stardom shortly after a video went viral of him seductively tossing grains of salt onto a slab of meat... and we still can't look away.
In case you've forgotten about the meaty heartthrob, allow me to jog your memory.
Ah, yes. That's perfection at its finest, my friends.
Take another look at this babe flicking his salt onto the cooked meat. It's basically the food porn we never knew we needed.
Salt Bae -- aka Nusret Gökçe, a founder of Nusr-Et Steak House -- just released a new video on Instagram that's just as captivating.
Believe it or not, the video doesn't involve salt -- but it'll still make you swoon.
In the sexy new clip, Salt Bae effortlessly slices fruit mid-air with a machete and it's just as impressive as it is seductive.
His fruit-slicing skills replicate those featured in the popular app Fruit Ninja. (Don't lie -- I know you've played it before.)
First, Salt Bae is thrown an array of fruits that he slices in half with his machete during the clip.
(I don't know why anyone would be throwing fruit at our flawless internet BF, but I digress.)
Take a look at Salt Bae in action and try not to swoon too much over his fruit-slicing muscles.
Well, I didn't think Salt Bae could get any more impressive... but I guess I was wrong. His fruit-slicing skills are just as mesmerizing as his salt-flicking skills.
We are not worthy.
Of course, Salt Bae ends his video with a big 'ol slab of meat. Could we have expected anything less?
After the fruits are annihilated, the chef is tossed a gigantic piece of raw meat. Instead of slicing it, he catches the slab and gives it a kiss.
Then, he puts it on the table and caresses it.
It's safe to say Salt Bae will continuously be the internet's sexiest chef, whether he's slicing fruit or tossing salt onto a piece of meat.
However, Drake's fruit-slicing skills are just as sexy.