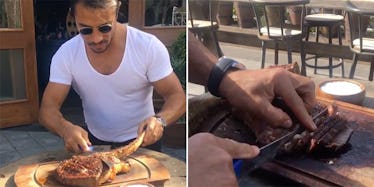 #SaltBae Videos Are The Mesmerizing Food Porn You Didn't Know You Needed
Instagram
A hot butcher is taking the internet by storm.
No, really, this is happening.
They call him #saltbae. Why, you ask? Because he sure does loves his salt, which he adds with an astonishing flourish.
It was this latest video that really caught Twitter's attention. In it, he carefully slices a piece of meat before generously adding salt.
He captioned the video "Ottoman steak," which is a little disturbing if your ancestors, like mine, were slaughtered and enslaved by the Ottomans.
Anyways, he has officially been dubbed #SaltBae -- you know, because he salts, and he's bae.
In reality, SaltBae is a man behind Nusr-Et Steak House, a steakhouse chain with locations across Turkey and in Dubai.
And he was already pretty famous before he was discovered. SaltBae exists on Instagram, where he has over one million followers.
He posts a ton of videos on the Instagram of himself butchering various gigantic cuts of meat. He treats his meat with a lot of care, caressing it before he cuts into it with precision, despite the massive knives he uses to do so.
To be honest, it's pretty mesmerizing to watch.
And with all this meat slapping and seasoning rubbing, Twitter's feeling a little, well, turned on.
#SaltBae appears to be Nusret Gökçe, one of the founders of the steakhouse along with Mithat Erdem.
Pretty much everything written about him is in Turkish, so that's about as much information as I can tell you about him. But a picture is worth a thousand words -- and a video even more.
After Twitter users found his Instagram, it appears Gökçe is a traditional family man. No one seems to be surprised he has nine children, as he seems to be extremely charming.
#SaltBae appears to be enjoying life, and it seems as if his restaurants are doing well for themselves. Even if he does look like a character from "The Fairly Oddparents."
SaltBae's just a man out there trying to serve up great meats to the world (or at least, some wealthy customers), which is not a bad way to live.
Life's not fun without a bit of flourish -- well, unless you're a vegetarian, in which case...sorry.