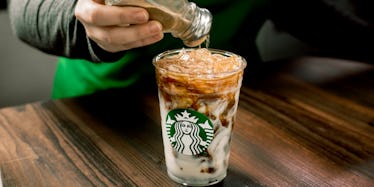 Starbucks Baristas Reveal Their Favorite Iced Espressos And You Need To Try Them
Starbucks
News broke on Tuesday, June 27, that Starbucks would be giving away free grande espresso drinks for a limited, weeklong promotion through July 2.
The beloved coffee company knows how to keep people interested in what they have brewing. I mean, they just released their colorful summer '17 frappuccinos (side note: I tried the Mango Pineapple one, and it was so good).
And now, literally one week later, I'm running back to my neighborhood baristas for a complimentary bev.
There are, however, a couple non-major catches to this wonderful promo.
First, you have to purchase a grande espresso drink before you can get your hands on a freebie. Second, you can only score this BOGO option between 2 and 5 p.m. until July 2.
Let's fast forward to the moment you enter your local Starbucks to take advantage of this sweet deal. What are you going to order?
From lattes to macchiatos to literally just an iced doppio in a grande cup (my favorite), there are so many delicious possibilities both on and off Starbucks' menu.
Before you freeze up and panic, Starbucks baristas actually recommended a few drinks in the brand's press release announcing the offer.
Here's what they suggest.
1. Starbucks Doubleshot on Ice
This is basically a shaken up doppio served over ice. You can customize it with whatever syrup or flavoring you'd like.
2. Iced Caffè Americano
They recommend adding raw sugar or coconut milk to jazz up this old favorite.
3. Iced White Chocolate Mocha
A cooler version of Starbuck's wintery mocha. It's super sweet, so ask for an extra shot if you want more coffee flavor!
4. Iced Caramel Macchiato
Ah, a classic. Tween me was obsessed with the sheer amount of caramel drizzle in this one. It's usually also sweetened with vanilla syrup, but you can give it a summer twist with, say, raspberry syrup instead.
5. Iced Soy Latte
If you're looking to ditch dairy, this is a super tasty alternative. Try adding a pump or two of the toffee nut syrup for extra flavor.
Since you'll be buying one and getting one, it's going to be so easy to make it through this list in one week.
Personally, I think I'm going to start with the iced caramel macchiato. #TBT.