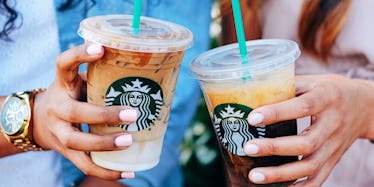 Starbucks Will Start Giving Away Free Iced Espressos Today, Here's How To Get One
Starbucks
Summer is cause for celebration, and Starbucks is getting in on the festivities with an exciting perk.
The company knows there's no better way to welcome the season than with a cool drink, so it's only fitting that the coffee giant is giving customers a chance to score a free iced espresso.
Yes, folks, you heard that correctly — free.
If you're in need of an afternoon pick-me-up before a meeting, head to your local Starbucks to get your free iced espressos. You'll be glad to have that nice, cool jolt of energy before your boss puts you to sleep.
In order to get your treat, here's what you need to know: June 27 through July 2, participating Starbucks locations will allow those who purchase a grande iced espresso from 2 to 5 p.m. local time a chance to get a complimentary second iced espresso beverage of equal or lesser value.
It's double the cool.
Some customers have a go-to order, but others like to mix it up -- and now you have the opportunity to do both.
If you can't part ways with your Iced Caffè Americano, but you're curious about the Iced White Chocolate Mocha, now is your chance to be extra indulgent. It's summer, baby. Time to live it up!
For those of you who want something tropical and fruity instead of coffee when the heat strikes, Starbucks has you covered.
Following Lady Gaga's Cups of Kindness campaign — which features the delightful new Matcha Lemonade and the Violet Drink — new frappuccinos over ice feature real fruit. We weren't kidding when we said they were summer in a cup.
For the tangy and playful options, you can give either the Berry Prickly Pear Frappuccino Crème or Mango Pineapple Frappuccino Crème a go. No judgment here if you're not in the mood for espresso.
Don't change your mind after July 2, though, because that's your final chance to participate in the double espresso goodness.