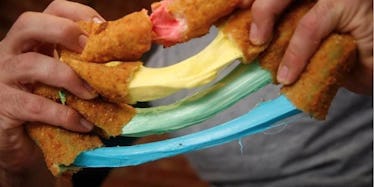 Unicorn Blood Mozzarella Sticks Exist And Here's Where To Taste The Magic
'Tis the season for comfort food, the time of year when all-things fried are a welcomed staple at get-togethers and nights in. And some of that deep-fried goodness is getting the mystical treatment. Here's where to get unicorn blood mozzarella sticks, one of the trendiest food to hit the scene. Who wouldn't welcome a chance to take their taste buds on a magical ride?
For those in the tri-state area, head to New Jersey for a bite of the goods. Tony Boloney's Pizzeria (a clever name if ever there was one) is taking everyone's favorite fried Italian cheese and adding a bit of color to wow its customers. Molto bene — there's no arguing with that kind of ingenuity.
The homemade mozzarella is dipped in food dye to unleash those unicorn hues everyone's come to love. From there, the colorful cheese bits are dipped in an egg-flour-breadcrumb mixture and fried to magical, mystical perfection. The finished product is what dreams are made of: rainbow-tinted cheese that's not only tasty, but totally worthy of an Instagram story or two. Biting in to see which color you've chosen adds an element of surprise. (No need to thank me for tips to up your social media game.)
C'mon, unleash your inner Italian grandmother and have as many bites of these bad boys as you possibly can. In this culture, there's no such thing as being too full... especially if the food in question features multi-colored goodness. Can you imagine taking a bite of a blue mozzarella stick? Awesome! Perhaps you were hoping for green (after all, they do say geniuses pick green), or even red. It's the best way to taste the rainbow.
According to the restaurant's Facebook page, "We make indigenous Atlantic City Inlet style pizza, Award Winning subs & bad a$$ grub." See? the rainbow-unicorn trend is "badass," so never feel like it's anything less.
But these cheese dreams aren't the first bit of food to receive the unicorn treatment. Since Pumpkin Spice Latte season is in full swing, you've probably long forgotten about Starbucks' Unicorn Frappuccino — the pink and blue neon mixture to rock everyone's morning coffee runs. It was certainly intense.
From there, many other locations followed suit. A Tony Boloney Italian counterpart in New York City, Gelso & Grand, couldn't help but take an Italian classic and put a new spin on it. The restaurant decided cannolis were calling for the unicorn treatment. Owners Nima Garos and Koorosh Bakhtiar tell Elite Daily,
The feedback and response have been amazing! We love that guests are drawn in by the look and stay to enjoy every bite. Being able to give guests an enjoyable, enviable experience inspires us to continue creating exciting ways for us to interact with [them].
Wouldn't you want to finish up your plate of multi-colored mozzarella sticks with one of these bad boys?
Each dessert comes equipped with a mini hammer to break open the goodness inside. It's made of funfetti cake, homemade buttercream, lavender macaroons, graham crackers, and colorful sprinkles. Let's not forget about the edible gold that coats the shell.
"We wanted to raise eyebrows with an innovative, scintillating dessert that tastes as good as it looks," the owners also tell Elite Daily.
That definitely seems to be the trend when it comes to the unicorn. You can also send your tastebuds on a magical journey with a slice of unicorn pizza, unicorn ramen, or unicorn macarons. The possibilities are endless, so don't be afraid to dream big. Your inner Lisa Frank obsession will thank you.
For now, point me in the direction of Tony Boloney's — there are some mozzarella sticks calling my name.