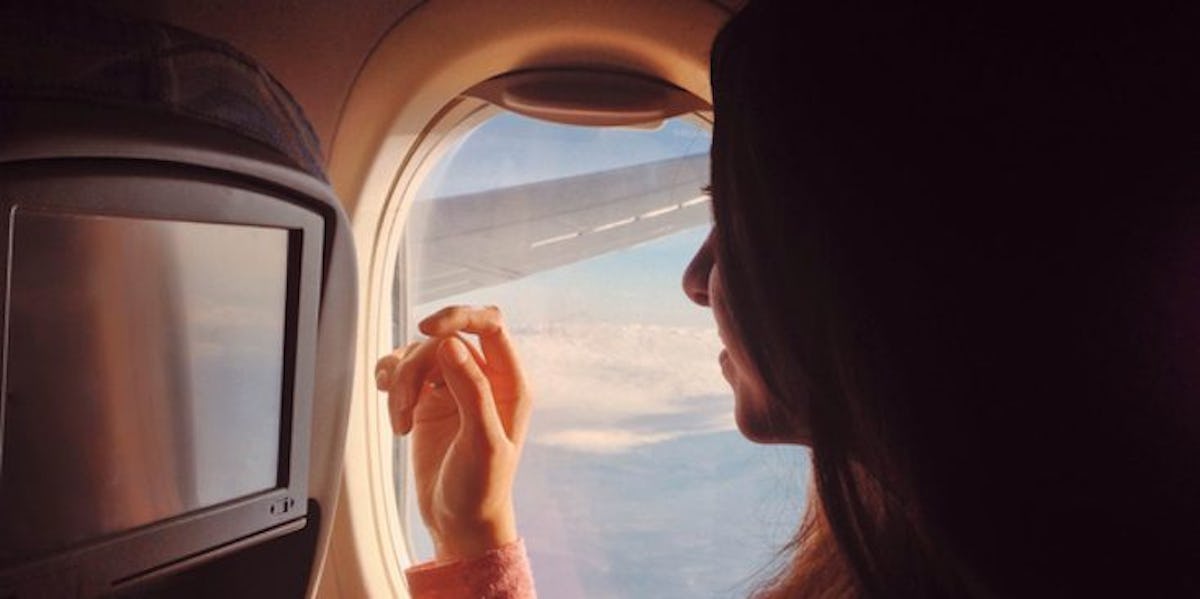 This One Travel "Mistake'' Can Help You Save Big Bucks On Airfare
Maja Topcagice
That incurable wanderlust can be problematic for your wallet... even if you think you're scoring a deal on cheap flights. When you come across prices that are out of this world and allow you to maximize vacation possibilities, you might not even realize that there's an issue. Here's what you need to know about how to find cheap flights, thanks to "mistake" fares that ensure you're actually scoring some major savings.
Mistake fares — also known as an error or "fat-finger" fares — occur when currency conversion issues arise, decimal points are misplaced, taxes and surcharges are left out, or simple data entry is incorrect, according to Travel + Leisure. Who doesn't love that feeling after discovering an incredibly inexpensive flight? Your eyes bulge, you can't reach for your wallet fast enough, and you're convinced you're on your way to paradise. It feels like it's a dirty little secret, but oftentimes, it can be too good to be true. It's definitely possible for those flights to be cancelled, and your glorious getaway would be gone in an instant.
So if you're worried that someone might rain on your parade after purchasing $190 tickets to China, here's your guide to mistake fares and what you need to do when faced with this issue.
First things first: Know your stuff.
Using apps such as Airfare Spot or The Flight Deal oftentimes helps travelers spot those out-of-control prices that haven't been detected by airlines. These sources can be a lifesaver. Keep yourself updated with these apps before making a ticket purchase of your own.
When booking, go through the airline.
If you have an inkling that something might be slightly off with those lovely prices you've spotted, book them through the airline because there is a greater chance that they'll be honored even if the mistake is discovered.
Though airlines were required by the Department of Transportation to honor mistake fares, things have changed. Now, there is the option for these airlines to remove the flights. Travel experts' final word of advice on the issue is to wait until the flight in question has been ticketed, and you've been given a ticket number, before considering your plans confirmed.
So now that you have the 4-1-1, get ready to make a few plans because this is the perfect time of year for an adventure.
If you're up for a nice glass of vino — after all, it does enhance creativity — have a look at these autumn wine festivals. From Big Sur, California, to Honolulu, Hawaii, there are plenty of places across the United States to channel your love for a glass of red. Enjoy a tasting with some beautiful foliage, bring a scarf, and you're basically in business. Talk about a fall state of mind.
If you're one to go all out on Halloween, there's good news.
If you're in need of something creepy, kooky, mysterious, and spooky, there are plenty of destinations that offer a delightfully frightening experience. 'Tis the season, after all, so might as well make the most of it.
Channel your alma mater days with a vacation to a spooky campus. These haunted dorms — at Boston University, Savannah College of Art and Design, and Ohio University, among others — offer a place for students and spirits alike to crash after a day in the library and a weekend at a sorority event. It'll be a trip you won't forget.
If you're brave enough, there are haunted locations worldwide that allow you to stay overnight... if you dare. Warning: Paranormal activity is highly likely.  From the Farnsworth House Inn to Sultan's Palace, there are certainly ways to get your spook on.
But if you're very much a fan of autumn without all the ghosts and ghouls, fear not: There are plenty of options for you, too. Amtrak is bringing back its "Great Dome" car on two popular routes so you can take full advantage of the fall foliage and a warm pumpkin treat. No ghosts, no problem.
Now's the time to book your next vacation, savvy travelers. Bon voyage!
Check out the entire Gen Why series and other videos on Facebook and the Bustle app across Apple TV, Roku, and Amazon Fire TV.