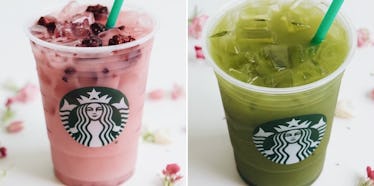 Starbucks' New Matcha Lemonade And Violet Drink Are Here To Stay, So Get Stoked
Starbucks
We have good news for those of you who can't start your morning commute without your favorite order from Starbucks.
If you've already fallen in love with the new Matcha Lemonade and Violet Drink -- both of which have been released today -- take comfort in the fact that these selections are now going to be permanent fixtures on the menu.
Starbucks teamed up with one of our favorite pop icons, Lady Gaga, to find a way to give back.
Thanks to the Cups of Kindness Collection — which includes the new Matcha Lemonade and Violet Drink, along with fan favorites Pink Drink and Ombré Pink Drink — 25 cents will go to the singer's Born This Way Foundation with every purchase from the collection.
According to Starbucks, this will help kindness and "support youth wellness and empowerment."
Gaga's platform also "gives  young people the resources and opportunities they need to help change the world — one act of kindness at a time."
If you're going to order something for your trek into work, you might is well make it delicious, adorable, and in support of something worthy. It's a cause for applause.
The coffee company hopes to raise $250,000 for the cause during the week-long incentive. However, a representative from Starbucks told Elite Daily that the two new drinks added to the Kindness Collection will be available year-round once the donations end on June 19.
So the good news is there's still time to make a donation and there's all the time in the world to get your Matcha Lemonade and Violet Drink fix.
Since you've probably had more unicorn frapps than you can count, and you're looking for a new treat, this is the great way to find a new favorite and give back.
Lady Gaga? New Starbucks drinks? We've never been so sure of anything in our lives.