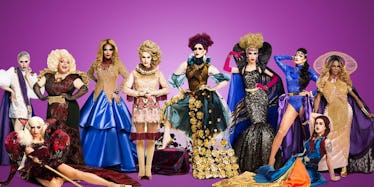 Gay Guy's Straight Brother Makes Him Epic 'RuPaul's Drag Race' Board Game For Xmas
World of Wonder Productions
I always thought I was pretty sly when it came to my innovative gift-giving skills, thinking about small nuances and personal details of my near and dear friends before purchasing anything.
Now, it appears that 25-year old Iain Forward of Bexleyheath, London has put me to damn shame after surprising his brother Stuart, 28, with a Christmas present of epic proportions.
Stuart, who is gay, took to Twitter this holiday season after receiving something completely unexpected from his brother, Iain, in the form of a board game — but this wasn't just any board game.
Iain give the childhood favorite "Guess Who?" game setup a more drag-like feel by creating a one-of-a-kind "RuPaul's Drag Race" inspired "Guess Ru?" just for his older sibling.
As expected, it meant everything and more to Stuart.
"I was just taken aback as the world of drag and drag race is so far removed from his everyday life and the circles he moves in," he said to Buzzfeed News. "He must have seen me at nights on Facebook or in drag at Sink the Pink, and thought it would make a good gift."
Stuart went on to say his sexual orientation was never a common talking point with his brother or the rest of his family, so the "Guess Ru?" gift was a way of acknowledging there was nothing to worry about.
"I guess he's known for a while and is cool with it," he said to Buzzfeed News. "We went out to a queer night in Leeds called Suck my left one at the Commonplace years ago with my then boyfriend, and I loved that as it was the first time I had really been queer, open, social and unashamed with family. We have a religious background so I guess that factors into it."
So while this may seem like a small token of appreciation to some, Iain's act of kindness towards Stuart through gift-giving really is something special to take note of.
Not only does it reaffirm the love and support from his brother, but the effort behind creating something around such a misunderstood topic like drag and the trending "RuPaul's Drag Race" is pretty heartwarming.
So, how do I go about hinting to my brother that I want something like this?
You hear that, Keith? I do have a birthday coming up, and a handmade "Guess Ru?" would make a very happy gay.
Just don't follow Iain's mistake and leave Katya out.
I may be less forgiving.
Citations: This Guy's Brother Made Him An Iconic "RuPaul's Drag Race" Christmas Gift (Buzzfeed)