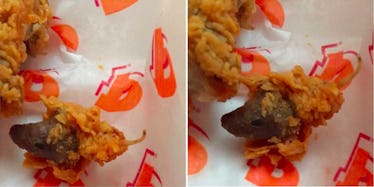 Woman Found A Fried Rat In Her Fast Food And The Pics Will Make You Queasy
Facebook
Looks like America's love affair with rats and food has ended.
Sure, we all loved Pizza Rat and his breakfast-loving counterparts Bagel Rat and Donut Rat, but having a deep fried in your fast food? No. This is goddamn madness.
A woman named Rosemary Thomas took to Facebook to complain about how she, her daughter, her niece and sister were allegedly served a rat at a Popeyes in Harlem, New York.
Go ahead and take the time to finish vomiting after looking at these gross pictures. I'll wait.
You back? Well, welcome.
RIP this rat who probably just wanted to get some Louisiana Tenders. Can you blame it though? They're so tasty... you know, when they're not actually vermin.
Well, I think Popeyes might have to soon say goodbye to that five-star health rating if this crispy fried squeaker turns out to actually be a dead rat.
According to the New York Daily News, Rosemary's daughter was apparently taken to an urgent care facility after suffering diarrhea and vomiting. Can you imagine how traumatizing this will be for her?
I don't think I'd ever go to a fast food place ever again if this happened to me.
Citations: Woman claims Harlem Popeyes served rat head in chicken (New York Daily News)