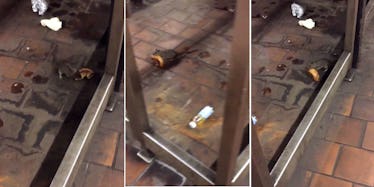 This Rat Carrying A Giant Bagel In The Subway Is All Of Us In The Morning
We get it, rodents, you're ALL real New Yorkers.
Eager to prove it's just as much of a passive aggressive, secondhand-smoking, subway-riding cosmopolitan as Milkshake Squirrel and Pizza Rat, a totally different rat (probably, but who can tell, honestly?) paraded its humongous meal around the subway terminal for the world to see.
welcome to new yorkpic.twitter.com/9QkK6l5C97 — Kelsey Scherer (@kelsa_) April 18, 2016
Where Pizza Rat represents the drunken, nocturnal New Yorker, stumbling home from a Brooklyn basement show at 3 am with a mouth full of hot cheese, Bagel Rat stands for the early-rising commuters, shoveling down some sesame dough while they half-heartedly jog to make their transfers.
If you're a New Yorker, trust there's a rodent out there waiting to teach you more about yourself than you'd ever thought you'd learn.
Should you happen upon one, though, don't get too close. Bath Salts Chinchilla is out there somewhere, craving flesh and Newport Lights.
Citations: Bagel Rat is officially the most New York rodent in the world (Mashable)