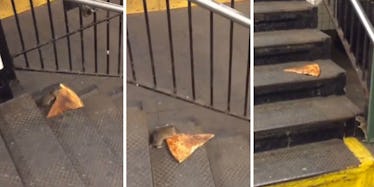 This Rat Dragging A Slice Of Pizza Down The Subway Steps Is All Of Us (Video)
Sometimes, a girl just needs her pizza.
We've all been there -- after a long night out or maybe after a few days trying to survive off juice. And then, there's the breaking point. The point of no return. The point when you decide it's time for pizza.
That's exactly what this rat is going through.
The circumstances around the little creature's need for the cheese are unknown, but really, it's all irrelevant. What we do know is this rat had to have its pizza. And it stopped at nothing to get it.
Through dirty floors and pee puddles, through blobs of sticky gum and cigarette butts, it prevailed. Truly, this rat is an inspiration.
See for yourself up top.
Citations: Subway Rat Could Use A Little Help Lugging This Pizza Slice Down The Stairs (Gothamist)