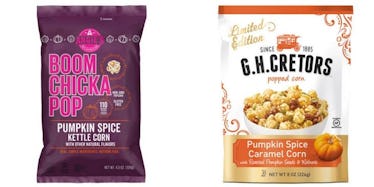 Pumpkin Spice Popcorn Is Here And It'll Be Your Favorite Scary Move Snack
Angie's BOOMCHICKAPOP / G.H. Gretors
Pumpkin spice season, as expected, has given birth to some pretty outlandish pumpkin products. There's PSL-inspired deodorant and cough drops, but Angie's BOOMCHICKAPOP's new flavor is bound to please the palates of movie-watchers everywhere. The brand recently introduced — drum roll, please — pumpkin spice-flavored popcorn. It's a sweet kettle corn and you're pretty much required to eat it during your next scary flick binge. So, where can you buy pumpkin spice popcorn? You have a few options.
According to a press release sent to Elite Daily, Angie's BOOMCHICKAPOP's Pumpkin Spice Kettle Corn retails for $3.99 per bag, and it features adorably seasonal packaging. Pre-popped in a purple bag, the non-GMO and gluten-free snack comes labeled with hints of Halloween-ready orange and adorned with pumpkin and leaf illustrations.
The trendy flavor is one of three in the brand's lineup of fall releases. They've also got candy corn- and buttery caramel-flavored options for those who'd rather indulge on a sweet snack than a spicy one.
Either way, pumpkin spice popcorn — like colorful funfetti popcorn — is a food I can stand behind. No joke, the product description on Angie's BOOMCHICKAPOP's website is convincing enough for me to gladly stock it in my pantry beside my other pumpkin things (*cough White Pumpkin Pie M&M's cough*). It reads,
It's everyone's favorite holiday pie. And it's about to be everyone's favorite popcorn. Nutmeg, cinnamon, cloves and ginger combine for an out-of-the-shell experience. And you don't need a fork. Just fingers.
Yum alert, am I right? And they're not even the only popcorn brand to join in on the spicy fun.
G.H. Cretors Popped Corn has their own recipe with a caramel twist. Corinne Kelly, vice president of marketing at G.H. Cretors' parent company, Eagle Foods, said in a statement,
We are constantly innovating to give our snackers and fans the most appealing and flavorful products, and seeing the popularity of the pumpkin flavor across all categories of food and drink inspired us to create something special.
Their gluten-free and organic Pumpkin Spice Caramel Corn is limited edition, so act fast if you want to taste their spicy-sweet take on the trend.
My tastebuds have never been more ready.