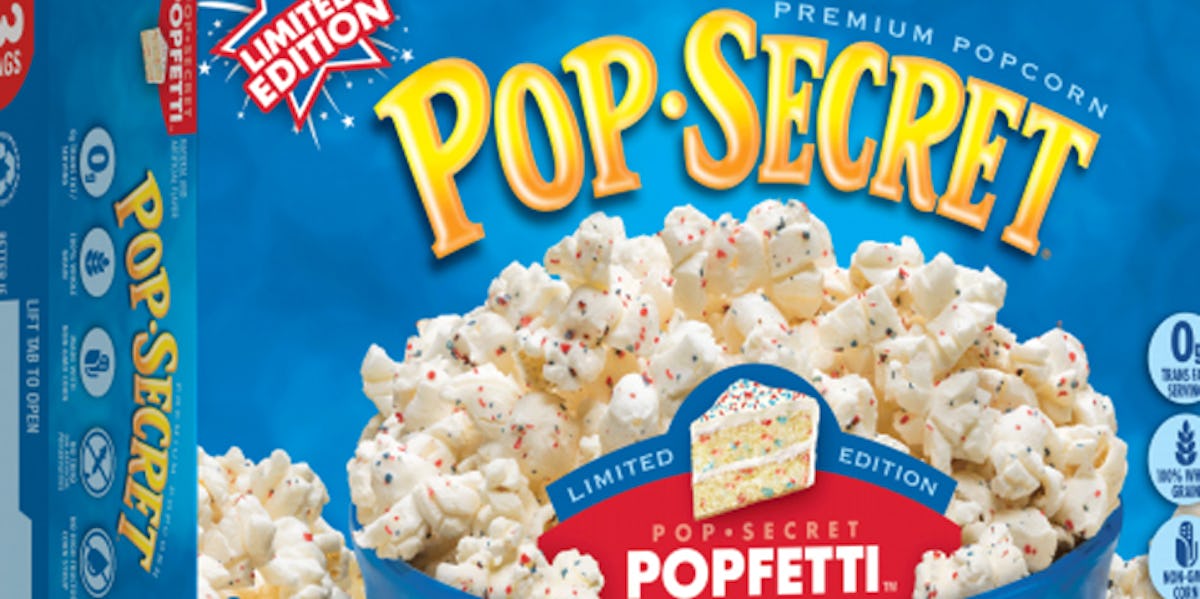 Funfetti Popcorn Is Here And If You Haven't Tried It Yet, You Really Need To
Pop Secret
I'm not ashamed to admit that at 25 years old, "funfetti" is still my boxed-cake flavor of choice. (Not that I use my oven that often, LOL. But when I do, I reach for that sugary yellow cake mix laced colorful sprinkles.)
To be completely honest, funfetti is the OG unicorn food.
Thanks to Pop Secret, the sweet concept has "popped" up in a limited edition version of its premium microwave popcorn.
That's right. Step aside, boring kettle corn.
The folks at Pop Secret low-key released the new dessert-inspired flavor just before Memorial Day, and I'm so bummed I've spent the past couple months watching movies without it.
The "yellow cake and buttercream frosting with red and blue sprinkles" formula (aka "Popfetti") comes in a box of three bags, and according to popular junk food-reviewing website Junk Banter, those sprinkles are not just for looks — they have their own distinct flavor.
Junk Banter knows the taste, because they went the extra mile and licked some off the side of the bag for a more concentrated flavor. They wrote in their post,
If you lick the sprinkles off the side of the bag like I did, they have a slightly fruity flavor and also you should really be ashamed of yourself. It all comes together nicely.
I appreciate their commitment to a well-rounded review and will definitely give my bag a lick now, too. No shame.
If you're interested in picking up a box (or, you know, 90) of Pop Secret's genius funfetti-like creation, it's available at most major grocery stores, including "Walgreens, Smart and Final, Wakefern, Giant Eagle, Food Lion and more," they wrote on Instagram.
It's unclear how long Popfetti will be in stores, but reminder: it is limited edition.
Here's to hoping it's still available come Labor Day, as it's literally the perfect patriotic snack!