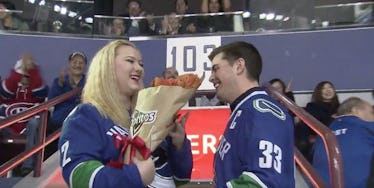 Girl Who Gave Lucky BF Bouquet Of Doritos Nailed This Hockey Game Proposal
Twitter
It was like something out of a rom-com you were forced to watch, but ended up enjoying. No, I'm not talking about the intense wrestling match between a Rite Aid employee and a shoplifter.
I'm obviously talking about the best proposal of all time since that impatient dude proposed to his girlfriend on a crowded subway car during rush hour.
Not only was a woman at a Vancouver Canucks game ready to witness some quality hockey action, she was also ready to take the next big step in her relationship with her boyfriend.
Normally, most women wait for their man to muster up the strength, courage and bank account to take that next step toward marriage. Not this woman, though!
Amanda Mussio's boyfriend Brandon Haubrich was playing a game of "Puck Shuffle" on the jumbotron. It's a game that tasks you with following an on-screen hockey puck with your eyes as fans watch you make a fool of yourself.
Haubrich's attempt ended a bit differently, though. That's probably because Amanda decided it'd be a great idea to propose to him with an on-screen message that read, "Will you marry me?"
Amanda herself was then shown holding a bouquet of "flowers" made out of Doritos as she nervously asked Brandon to marry her.
Watch the moment a woman proposed to her boyfriend at a hockey game with a bouquet made out of Doritos.
You know, that actually went pretty smoothly! Not only does Brandon get an overwhelming amount of Doritos at no cost, but Amanda popped the question so he doesn't have to. It's a win-win!
Plus, now he gets to go home to this forever...
I do have to wonder, though... How hilarious would it have been if Amanda's "Will you marry me" question was hidden under another hockey puck and not number three? I guess we'll never know!
In other "news," I have a strange craving for Doritos and marriage now...
Citations: Nothing says 'Will you marry me?' like a bouquet of Doritos at a hockey game (Mashable)