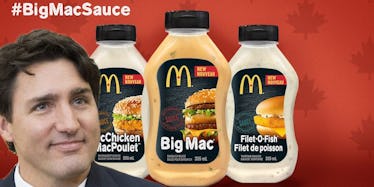 McDonald's Sauce News Proves Justin Trudeau Isn't Only Reason To Move To Canada
Twitter
Moving to Canada is sounding more and more appealing these days.
Not only is its prime minister — TruDaddy, as I like to call him — the most delicious politician we've ever laid eyes on, but its fast food game just stepped it up a notch.
McDonald's Canada announced a surprise for its citizens on Twitter, and we Americans are super jealous.
Let's just say Canadians are about to live life full of sexy leaders and tasty, accessible condiments.
It's been reported McDonald's Canada will be releasing bottled condiments in Canadian grocery stores this spring.
That's right: Now, you'll be able to make your own McDonald's sandwiches at home and add your favorite sauce to the mix.
Or, if you don't like to cook, you can buy a few burgers and shamelessly drench your buns with layers of Big Mac sauce in the comfort of your own kitchen.
The fast food chain will be releasing three sauce flavors in stores: "McChicken," "Big Mac" and "Filet-O-Fish."
Judging from the official Twitter announcement, the condiments will hit the shelves this spring, and McDonald's fans are lovin' it.
Also, take note of McDonald's Canada's responses to everyone who is excited about the sauces. Whoever is running its Twitter account deserves a medal.
Some fans want to guzzle down the sauce.
"Now, you can make Big Macs at home."
People are fainting from excitement.
Why did it take you so long?!
"I've been waiting for this."
McDonald's Canada announced in its press release that the sauces will be available from "coast to coast," but details have not yet emerged confirming which stores will sell the sauces.
If you have friends in Canada, now's your chance to schmooze them into sending you a few bottles of your favorite condiment.
Or you can take a trip to Canada this spring and stock up. Maybe you'll run into TruDaddy while you're there!
Citations: @McD_Canada (Twitter)