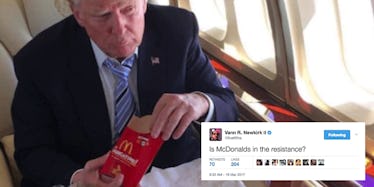 McDonald's Just Ripped Into Trump With Brutal Tweet And Everyone Is Lovin' It
Twitter
On March 16, McDonald's tweeted something extremely anti-President Donald Trump.
The tweet said,
@realDonaldTrump You are actually a disgusting excuse of a President and we would love to have @BarackObama back, also you have tiny hands.
It was quickly deleted, and McDonald's claims its account was compromised, but the damage was already done.
In a subsequent tweet read,
Twitter notified us that our account was compromised. We deleted the tweet, secured our account and are now investigating this.
"Compromised." Sure, McDonald's — we totally believe you.
(It's OK, we know how you really feel now and we're totally on your side, don't worry.)
Also, it seems a bit too late for this. The fries are out of the bag. We know the truth.
Everyone is now convinced Ronald McDonald voted for Hillary Clinton, is fed up with Donald Trump's bullshit and wants to lead the resistance.
America's favorite fast-food chain is now a liberal icon. Those golden arches are really just a big middle finger to bigotry.
People are now totally aware McDonald's is woke AF.
America is lovin' it.
Yeah, I'd like a large number one with a side of RESISTANCE.
It's not clear who wrote the tweet, but people have theories.
Maybe Obama wiretapped McDonald's microwaves?
Coincidentally, McDonald's executive vice president and chief communications officer used to be the White House press secretary under Obama.
If Trump talks smack about McDonald's after this, we have evidence he's a huge fan and is spreading alternative facts.
This is not FAKE NEWS. Perhaps the Big Mac will temporarily become the Bigly Mac?
Some Trump supporters are already saying they will boycott McDonald's.
That's actually probably a good idea, since Republicans are trying really hard to take away their health care. Just saying.
Citations: @jchaltiwanger (Twitter)