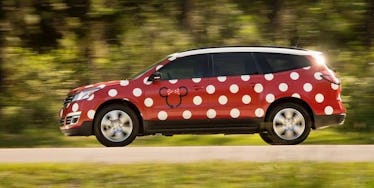 These Polka-Dotted Minnie Mouse Lyft Vans Will Make Your Disney Trip Magical
Courtesy of Lyft
A black Toyota is so passé when your ride can be decked out like your favorite childhood character. Who would opt for something plain and boring when there's the option to cruise in style? To reaffirm its title as the happiest place on earth, Disney partnered with Lyft to create Minnie Mouse vans, and they're the polka-dotted ride of every child's -- and Disney-loving adult's -- dream. In the words of my baby cousin Emma, "I love Minnie!"
Beginning July 31, vacationers at Disney's Boardwalk Resort and Disney's Yacht & Beach Club Resorts have had the option to have everyone's favorite leading lady whisk them away in red and white polka dots. Clearly, it's the only way to travel around the most magical place known to man. The Chevy vans also come equipped with a small Minnie ears icon, so you know it's going to be a fun ride.
Littlest of Minnie fans are welcome in the six-passenger car, as it comes with two versatile car seats. It's all about the enchanted experience, and both Disney and Lyft are making sure everyone feels completely swooped up in the magic.
"Playing a part in a family's experience at the most magical place on earth is a dream come true," Lyft co-founder and President John Zimmer said in a statement.
If you're looking to book a trip to Florida -- kids or no kids -- now is a perfect time to make the plans. You've already missed the summer's most expensive day to travel (July 9, for those curious flyers) and there are a slew of apps to help you book the cheapest flight to your destination. Let's face it: You need a trip in Minnie's car just as much as you need those mind-blowing Mickey beignets.
Vacationers should also stay tuned for more developments, as the service will be driven by Disney cast members on park property. Wait till I tell this to little Emma; my 4-year-old cuz will have her bags packed in no time.